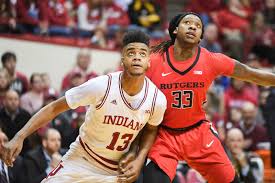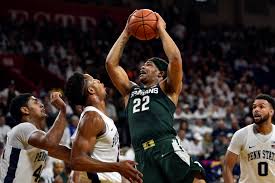 The Indiana Hoosiers (11-7 Overall, 4-2 Big Ten) play the #9 Michigan State Spartans (16-3 Overall, 4-2 Big Ten) at 7 p.m. E.T. on Friday, Jan 19 at the Breslin Center in East Lansing, Michigan. Sharing the same Big Ten records, Indiana and Michigan State are virtually tied in the conference, although the Spartans sit in fourth and the Hosiers in fifth. Both are 2.5 games behind first place Ohio State and Purdue. Our Indiana plays Michigan 2018 NCAA basketball Big Ten pick has the Spartans at -15.5 even and the over/under at anywhere from 140.0.
Recent History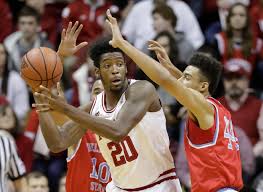 The Hoosiers have beaten one top 25 team thus far and lost to two others. The took down the #18 Notre Dame Fighting Irish 80-77 in OT on Dec. 16. Losses were to #22 Seton Hall 84-68 on Nov. 15 and to #1 Duke 91-81 on Nov. 29. They've won their last three games. Michigan State is coming off a tough 82-72 loss to rival Michigan on Jan 13. From Nov. 19 through to Jan. 4, the Spartans won 14 straight, including beating #9 North Carolina 63-45 and #5 Notre Dame 81-63 back-to-back on Nov. 24 and 26. Along with their recent loss to Michigan, the Spartans also lost to Ohio State 80-64. Between those two losses, they beat Rutgers 76-72 in OT.
Matchup
Michigan State is outscoring Indians 85.2 to 74.2. The Spartans are hitting 51.7% of their shots while the Hoosiers are good on 45.9%. The Spartans are out rebounding Indiana by five and are averaging seven more assists and three more blocks per game. Michigan State is allowing opponents just 64.0 PPG. The Hoosiers are giving up 70.7 PPG. Two big discrepancies can be found on three-point completions, as MSU is putting in 41% and Indiana 31%, and foul shots, as the Spartans are good on 73% and the Hoosier on 67%.
Players to Watch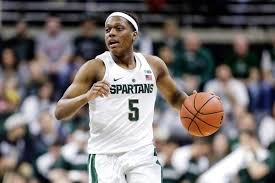 Indian's top performers are junior forward Juwan Morgan and senior guard Robert Johnson. Morgan, a 59% shooter, is averaging 15.6 PPG and 7.4 RPG. Johnson is good for 13.6 PPG, 2.6 APG, and 4.2 RPG. Sophomore forward De'Ron Davis is connecting on 62% of his shots from the field, while averaging 9.6 PPG and 4.3 RPG.
Of note in our Indiana plays Michigan 2018 NCAA basketball Big Ten pick is that the Spartans have five double-digit shooters. Guard Miles Bridges is their go-to guy, leading all scorers with 16.7 PPG. He's also good for 7.4 RPG. Sophomore guard Nick Ward is grabbing 7.5 RPG and averaging 14.3 PPG. Sophomore guard Cassius Winston is leading the team with 6.9 APG while scoring 12.7 PPG.
Our Indiana Plays Michigan State 2018 NCAA Basketball Big Ten Pick
The Hoosiers comes into the game on a roll, while Michigan State is struggling. But the Spartans are at home and are most likely ready to get their act together and take it to Indiana. This may be a self-correction game where Michigan State gets back on track. Our Indiana plays Michigan 2018 NCAA basketball Big Ten pick is Michigan State at -15.5. Plus, we're taking the over at 140.0.
Summary Hoosiers at Spartans Picks- MSU at -15.5 and over 140.0