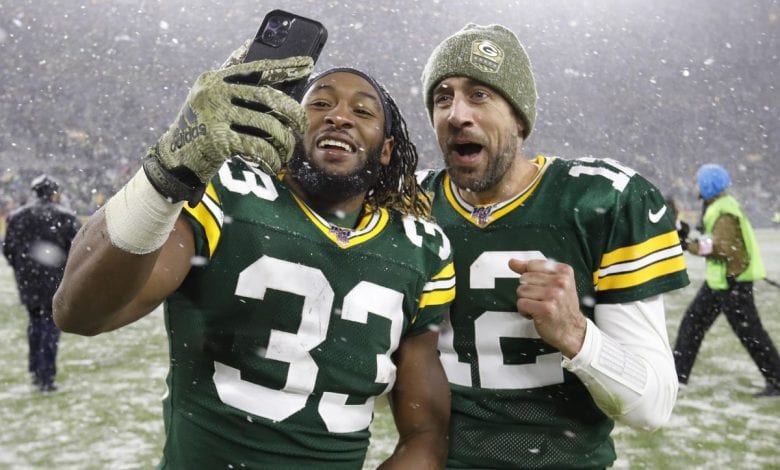 The Green Bay Packers are taking a trip to New Orleans for a primetime matchup on Sunday night. Green Bay is undefeated and sitting atop the NFC North after two weeks of play. New Orleans is coming off an embarrassing loss last Monday night to the Las Vegas Raiders.
New Orleans is a three-point home favorite in this matchup, but they need to play a lot better than they did last week to beat a good Green Bay squad. The Saints' moneyline is -167 (Packers +140) with an over/under of 51.5.
Firing on All Cylinders
Green Bay has been impressive in both weeks of the regular season thus far. In week 1, the Packer's aerial attack was too much for Minnesota's defense to handle. Aaron Rodgers has looked like he did in the prime of his career, silencing critics who think it's time for Green Bay to move on at the QB position. Davante Adams had a huge season opener with 14 catches for 156 yards and two touchdowns.
Week 2 belonged to Aaron Jones and the Green Bay rushing game. Jones carried the ball for a career-high 168 yards and took two trips to the end zone.
The Packers rushed for a total of 259 yards on a day where their offensive line punished a weak Detroit front seven. The Green Bay defense has been average, but the offense has allowed them to recover by putting up a total of 85 points in two games.
That Was Ugly
The Saints played solid in week 1 when they slayed Tom Brady and the Buccaneers. Last Monday was a different story though as New Orleans struggled on defense and were embarrassed on a national stage against the red-hot Las Vegas Raiders.
Derek Carr picked apart the Saints all night long with short and intermediate passes. Offensively, Drew Brees looked better than he did in week 1, but it wasn't good enough for a Saints win. Brees did turn the football over once at the end of the first half which allowed the Raiders to steal three points, going on to beat New Orleans by 10.
The Picks
Rodgers must've been salivating all week long while watching tape. There are a lot of holes in the New Orleans' defense, so I hope Sean Payton figures out a way to get a pass rush and tighten up his secondary. One important note is that Adams will most likely not play for Green Bay, a huge blow to Rodgers and the passing game.
New Orleans' hasn't looked like a team that has things figured out early in the season. Green Bay gives up points, so the Saints will have opportunities to score. Despite this, Green Bay's offense is clicking, and Rodgers' is hungry to show the league that he's not done yet.
The Packers (+140) will make a primetime statement Sunday night and move to 3-0 while the score will also go over 51.5.