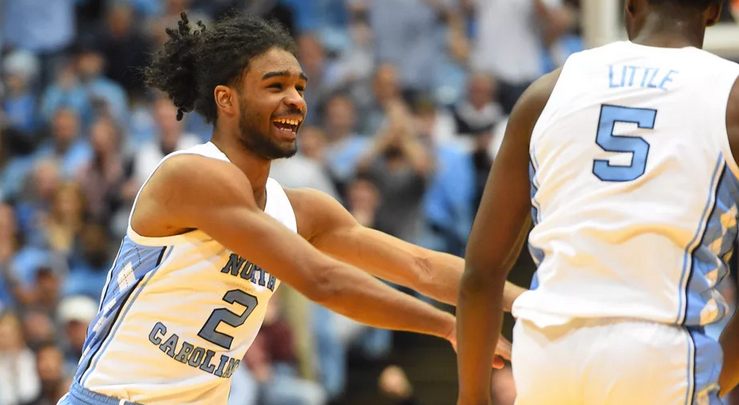 Both teams will be looking to bounce back from subpar performances on Big Monday as the North Carolina Tar Heels host the Virginia Cavaliers. North Carolina is listed as a 1-point favorite.
The Cavaliers suffered just their second loss of the season on Saturday losing to Duke 81-71. Both Virginia losses have come at the hands of the Blue Devils, putting them a game behind both Duke and North Carolina at the top of the ACC standings. However, the Cavs are still 20-2 overall and have rarely struggled against teams outside of Coach K's crew in Durham.
As mentioned, the Tar Heels are tied with Duke at 9-1 atop the ACC standings. But it hasn't always been pretty. North Carolina got pushed to overtime on Saturday against a Miami team that's short-handed and just 2-9 in ACC play. In the end, the Tar Heels were able to pull out the win, but they may have been looking ahead to Monday's game with the Cavaliers.
No Respect
While Duke's freshmen are getting all the attention, a few miles down Tobacco Road, UNC freshman Coby White has been just as impressive. White saved the day for the Heels over the weekend. He got hot from deep and finished with 33 points on 11 of 16 shooting to save North Carolina from an embarrassing loss to Miami. On the season, White is averaging 16 points per game, but he's scored at least 21 points in three of his last five games to lead the way.
Of course, the Tar Heels are going to need to give White a little help. The Virginia defense will surely be a lot of focus on slowing him down. Luke Maye needs to keep it going after three straight games with 20 points or more. Cameron Johnson is also a candidate to get hot from the perimeter against a Virginia team that likes to pack the lane defensively. However, the Tar Heels can't afford to take it easy on the boards and get out-rebounded the way they did against Miami.
Getting Back to Good
Despite the loss to Duke on Saturday, the Cavs were no doubt glad to see Ty Jerome return to the court after a back injury. Jerome tied Kyle Guy with a team-high 16 points against the Blue Devils, even if the pair couldn't quite match Duke's shooting display. After playing 37 minutes, Jerome should be good to go again on Monday night despite the quick turnaround.
The Cavs will need the trio of Jerome, Guy, and De'Andre Hunter to be at their best against North Carolina. While Virginia is strong at the defensive end, they may only be able to do so much against a North Carolina team averaging 88 points per game. Virginia may need to reach at least 70 points in order to beat the Tar Heels. They've only done that in half of their conference games, and so Jerome, Guy, and Hunter will all need to bring their A-game to the offensive end.
Sweet Home Carolina
The Tar Heels were unimpressive over the weekend, but surely they'll show up for a home game on Big Monday. Even against good defensive teams, North Carolina has found a way to score points, and it could be tough for the Cavs to keep up. Bet on North Carolina beating Virginia on Monday night.