College Basketball Picks
Tuesday February 19th Big Ten CBB Free Pick: #25 Maryland at #19 Iowa
Hawks Have Look Vulnerable in Recent Wins, Does the Levee Finally Break vs. the Terrapins?
Iowa fans better be fully stocked with beta-blockers because watching their team has been a cardiac affair lately. Granted the Hawks are getting wins, but they done it while being down 12 with 3 minutes left to Northwestern and needing a buzzer beating h-o-r-s-e three pointer off the glass to beat Rutgers. Is Iowa emotionally drained heading into the February 19th Big Ten CBB free pick vs. Maryland…or are they just getting rolling?
About Those Terrapins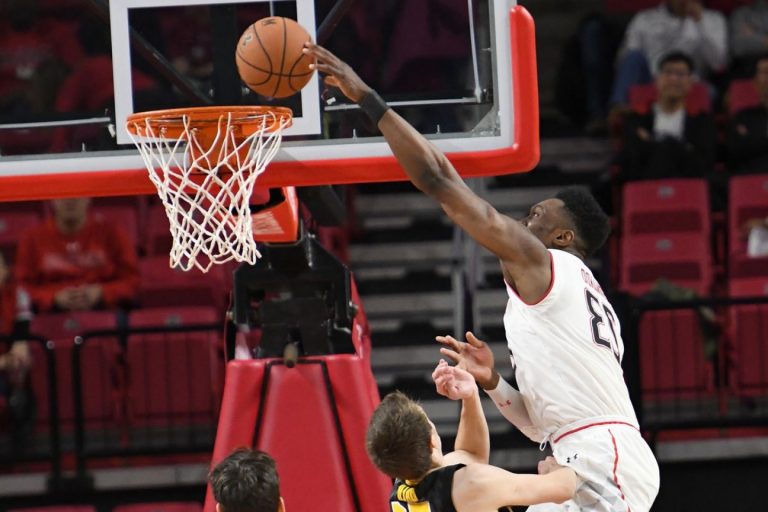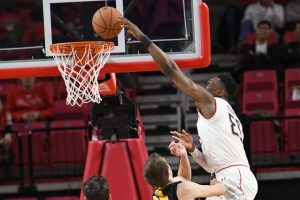 Maryland is not a bad play in the February 19th Big Ten CBB free pick. After all, they do have a size advantage over the Hawkeyes powered by 6'10" Bruno Fernando and 6'10" Jalen Smith. That duo can get Iowa's 6'11" Luka Garza in foul trouble early which dramatically changes Fran McCaffrey's scheme. The thing is even with those solid 'bigs', Maryland is just 3-4 over their last 7 conference games. The Terps did upset Purdue a week ago however and they beat Iowa by nearly 20 when the teams met up in January of last season.
Maryland hasn't won a road game vs. a ranked team since George W. Bush was in office. The loss at #6 Michigan Saturday marked the 27th straight loss on the road vs. a ranked team for the Terps. The Hawkeyes could be considered vulnerable, especially on defense where they've allowed 71+ points to 6 of 8 opponents. The Terrapins are very up-and-down on offense however, being held to 61 points or less in three of the last four. Maryland did score a 91-73 win in their only meeting last season as Fernando went for 21 and Anthony Cowan added 15.
Do Buzzer Beaters Drain Iowa…Or Give Them Momentum?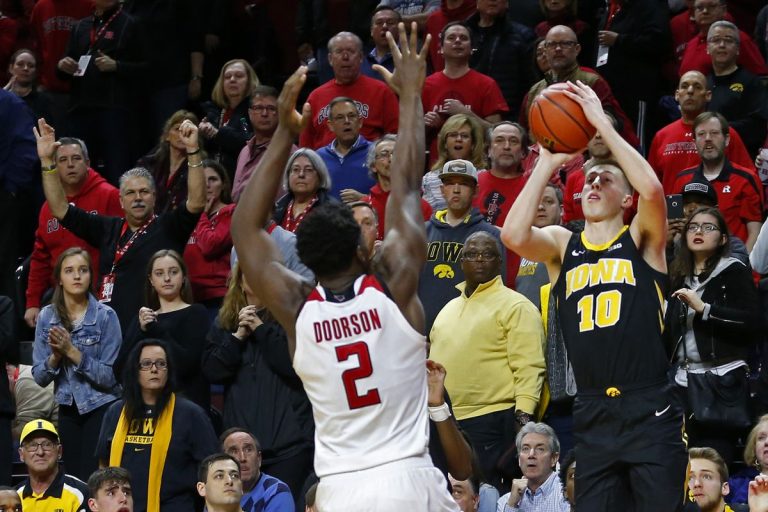 It hasn't always been pretty but the Hawkeyes have strung together a four game win streak. The most impressive victory over that span was a 74-59 win over Michigan in Iowa City led by Luka Garza's 19 and Joe Weiskamp's 15 points. It was Weiskamp that hit the last second three pointer over Rutgers and the freshman could be a key vs. Maryland as he also had 21 points two games prior vs. Northwestern. As good as Iowa looked at home vs. Michigan, they stumbled that much in the game vs. the Wildcats. Which team shows up in the February 19th Big Ten CBB free pick especially coming off two emotional outings?
The Hawkeyes want to get in a fast paced game as their 81,2 ppg scored is 29th in the country. That's the opposite of what Maryland wants to let you do however as their defense is also ranked 29th allowing just 64.6 ppg. Michigan pushed the ball vs. the Terrapins on Saturday and came away with a 65-52. That was a Wolverines team that is 307th in KenPom tempo and Iowa is 72nd in possessions per 40 minutes.
February 19th Big Ten CBB Free Pick Betting
Iowa is 5-1 in games decided by 5 points or less this season. They are also 13-2 at home on the season while Maryland is just 5-4 on the road. The Terps could win this game outright easily – or they could get blown out by double digits, that's just how unpredictable Tuesday's contest is.
The Hawkeyes have five able starters that can carry the team if needed and that's going to be the difference. Maryland will make some changes to their transition defense, but in getting back fast they'll lose a rebounding edge and tire out their big men. Advantage Hawkeyes.
Big Ten Free Pick: Iowa Hawkeyes -2.5