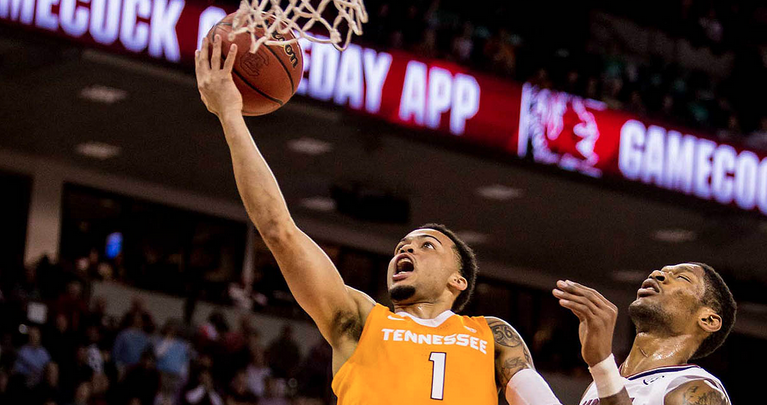 On Saturday night, the Tennessee Volunteers will travel to College Station to take on the Texas A&M Aggies. Tennessee comes in at 19-1 and is the number 1 ranked team in the country. Texas A&M has not had a great year as they come in with an 8-11 record.
Tennessee Maintaining Momentum
Tennessee is coming off a 92-70 win at South Carolina on Tuesday. Admiral Schofield led the way in this one with 24 points on 9 of 17 shooting and grabbed 9 rebounds to tie for the team lead. Grant Williams was not far behind him, scoring 23 points on 9 of 15 shooting and also grabbed 9 rebounds for a share of the team lead. Jordan Bone chipped in 19 points and 5 rebounds and was the team leader in assists with 9. Lamonte Turner was the last Volunteer in double digits with 13 on 5 of 8 shooting.
Texas A&M is coming off a 72-57 loss to LSU on Wednesday night. The Aggies trailed by just 1 at the half but were only able to score 21 points in the 2nd half. T.J. Starks led the way for the Aggies with 21 points on 7 of 19 shooting. Starks also led the team in assists with 3. Josh Nebo was the only other Aggie in double figures with 16 points on 4 of 5 shooting and led the team with 11 rebounds. The Aggies got 7 points from both Christian Mekowulu and Savion Flagg.
Williams Leads the Volunteers
Tennessee sports 5 players who average double digits. Grant Williams leads the charge with 20.4 points per game and is shooting 57.3% from the field. Williams is also the leading rebounder with 7.3 a game. He is followed by Admiral Schofield, who chips in 17 points and 6.7 boards each game. Jordan Bone tallies 13.4 a game and is the teams leading assister with 6.4 a game. Lamonte Turner scores 11.6, and Jordan Bowden adds 10.9 a game. Tennessee puts up 86.3 a game on 51% shooting and holds opponents to 67.6 a game.
Texas A&M is led by T.J Starks, who is averaging 13.3 points a game. Starks is also the leading assister for the Aggies with 3.6 dimes a game. Savion Flagg is next in the scoring column with 12.3 a game and is the leading rebounder with 8 boards a game. Wendell Mitchell is the only other Aggie averaging double digits with 113 a game and is the teams leading 3-point shooter at just 39.2%. The Aggies are scoring 71.5 a game on just 43.6% shooting, and they are allowing opponents to put up 72.4 a game.
Tennessee Wins By a Landslide
Tennessee comes in at -12. This one could get out of hand early. Tennessee is an experienced team, and Texas A&M has no depth and are giving former walk-ons major minutes. Tennessee is an offensive powerhouse and will score at will against a weak Aggie defense. Also, A&M doesn't have the offensive talent to score against this Tennessee defense. Take Tennessee -12 in a blowout.