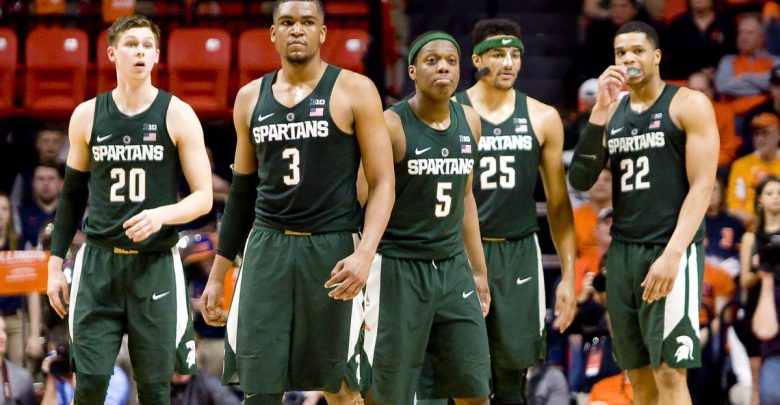 A pair of top-25 college basketball teams will meet up for a Thanksgiving battle as a part of the Continental Tire Las Vegas International. The 11th-ranked Michigan State Spartans will take on the 17th-ranked UCLA Bruins in what should be a terrific basketball game. Both of these programs have had recent success, and both look like Final Four contenders this season.
Michigan State brings a 3-1 record into this contest, and are coming off of 78 point victory over Tennessee Tech earlier this week. The Spartans have looked terrific since losing their season opener by five points to the Kansas Jayhawks. The UCLA Bruins have won their first four games of the season, but they have yet to play a real tough opponent. Michigan State is -8.0 over UCLA in this game.
Spartans Scoring Points
Michigan State lost two players to the NBA after last season, but the Spartans still have plenty of talent on their roster. The Spartans are averaging 93.5 points per game, and have broken the century mark twice already this season. Michigan State is shooting nearly 50 percent from the field so far this season, and they have made an average of ten three-pointers per game.
Cassius Winston and Joshua Langford have been the offensive stars for the Spartans this season. Winston leads the team with 17.3 points per game, while Langford is right behind him at 17.0. The duo have combined to make 23 three-point shots this season, and form one of the best guard combinations in college basketball. Center Nick Ward is providing support with 15.8 points and six rebounds per game this season. Michigan State is a nightmare for opponents to defend.
UCLA Has Balanced Scoring
The UCLA Bruins are averaging an impressive 90.5 points per game this season, and they are getting the job done without a true star. The Bruins are shooting 52 percent from the field so far this season, and they have done a great job at getting good shots. UCLA has six different players that are averaging nine or more points per game, and that causes opposing teams difficulty in defending them.
Kris Wilkes and Moses Brown have been the two best scorers for UCLA this season, but they have had plenty of support. Wilkes and Brown have combined to average more than 34 points a game, and Wilkes leads the team with seven made three-point field goals. Brown is proving to be one of the better post players in the country, pulling down 12 rebounds a game to go along with his scoring.
Michigan State Routs UCLA
The Spartans come into this game as a more proven commodity, and they have already been tested this season. UCLA brings a perfect 4-0 record and a top-25 ranking into this matchup, but their schedule has been weak to begin the season. Michigan State has more talent and athleticism than UCLA, and they should eventually wear down the Bruins. Look for Michigan State to cruise to a victory. Bet the Michigan State Spartans -8.0 over UCLA.