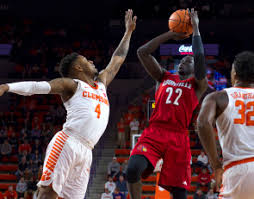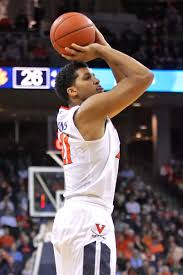 The #18 Clemson Tigers (16-3 Overall, 5-2 ACC) are at the #2 Virginia Cavaliers (18-1 Overall, 7-0 ACC) in a big Atlantic Coast matchup tonight, Tuesday, January 23. The two will tip off at 7 p.m. E.T. at John Paul Jones Arena in Charlottesville, VA. The Clemson Tigers are two games behind the Cavaliers and tied with Duke. Virginia, which is perfect in the ACC, sits alone in first place. Our Clemson plays Virginia 2018 NCAA College Basketball pick has the Cavaliers favored by 9.5 and the over/under at 119.5.
Recent History
Clemson ran off three ACC wins, including beating #22 Florida 71-69 on Dec. 16, before sputtering a bit and losing two of their last four games. Recent losses were to NC State 78-77 on Jan. 11 and #15 North Carolina 87-79 on Jan. 13. On January 20, they beat Notre Dame 67-58. Virginia's one loss was to #18 West Virginia 68-61 on Dec. 5. They have reeled off seven ACC wins, including beating #12 North Carolina 61-49 on Jan. 6. They've won 10 straight.
Match Up
On paper, statistically, these two teams are closely matched. Clemson is averaging 77.0 PPG while Virginia is putting in 69.6 PPG. However, the Tigers are allowing 66.2 PPG while the Cavaliers are holding teams to 52.4 PPG. That gives the home team a PF/PA differential of +17.2 PPG. The Tigers' PF/PA stands at +10.8. Two stats that stand out- Clemson has out in almost 90 more foul shots than Virginia and tossed up 30 more points in shots from the arc.
Players to Watch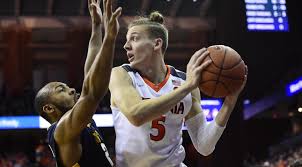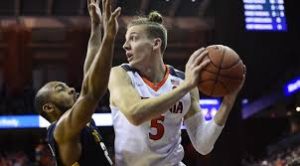 Each of Clemson's five starters are scoring in double digits. Junior guard Marquise Reed leads all scorers, averaging 16.0 PPG, while junior guard Shelton Mitchell, who's averaging 12.3 PPG, is dishing off 4.3 APG. Forwards Donte Grantham and Elijah Thomas are both massive rebounders and solid scorers with Grantham grabbing 6.9 RPG and scoring 14.2 PPG and Thomas good for 7.7 RPG and 11.1 PPG.
In our Clemson plays Virginia 2018 NCAA College Basketball pick, we see Virginia's Kyle Guy, a sophomore guard, as being key in this game. He leads all Cavaliers with 15.3 PPG. Senior guard Devon Hall is second in scoring with 12.6 PPG, second in rebounding with 4.1 RPG, and tied for first in assists with 3.2 per game. Senior forward Isaiah Wilkins leads the team in rebounds with 7.0 per game.
Our Clemson Plays Virginia 2018 NCAA College Basketball Pick
One important note on this matchup, Virginia has a deeper bench and uses more players per game. Clemson relies a lot on its starting five, and that can lead to fatigue at the end of the game. Our Clemson plays Virginia 2018 NCAA College Basketball pick is the Cavaliers at -9.5. We're going with the over at 119.5.
Summary Tigers at Cavaliers- Virginia at -9.5 and over 119.5