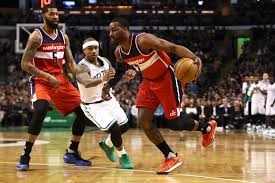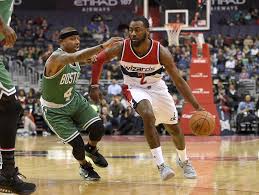 Game six of this Eastern Conference Semifinal series between the Boston Boston Celtics and Washington Wizards will be played tonight at 8 p.m. E.T. on the Wizards' home court. The Celtics won game five on Wednesday 122-101. That game was played in Boston. So far the home team has won every game in this series. Although the Celtics could finish off the Wizards tonight, it won't be easy. Our Celtics play Wizards NBA playoff free pick has Washington favored by five points and the totals at 216.
Important Players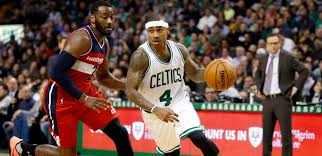 At this point, it's evident that point guard Isaiah Thomas is the leader on this team, and as such, he'll need to put forth a major effort if Boston is to closeout the series tonight. Thomas leads the team a average points per game with 24.9 and he's second in assists with 5.9 per game. SG Avery Bradley is hitting his threes at a rate of 38% while PG Marcus Smart is good on 37%. Center Al Horford is key for this team. He's been averaging 15.8 PPG (2nd), 7.7 RPG (1st) and 6.1 APG (1st ). Horford is hitting 58% from beyond the arc, while nine Boston players are combining for a three-point success rate of .398.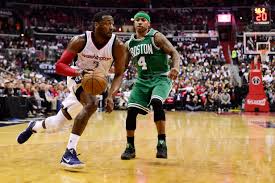 PG John Wall is averaging 10.5 APG and 28.1 PPG for the Wizards. What may be more important are his 2.00 SPG and 1,18 BPG. SG Bradley Beal, who's averaging 1.64 SPG, is hitting for 22.9 PPG. Front men Otto Porter Jr. and Markieff Morris are combing for 24 PPG and 12 RPG. Center Marcin Gortat is taking down 11 RPG and hitting for 8.6 PPG. The team's shooting beyond the arc is inconsistent. Look for them to generate ball movement and try to utilize their inside game.
Five Keys to the Game
Wizard D has to play the full 48 minutes and shut down C's outside game
Thomas has to be playmaker and allow others to contribute
Wall and Beal need big games for Washington
Boston's 3-point game can sink Wizards
Wizards' foul shooting could win close game
Celtics Play Wizards NBA Playoff Free Pick
Boston has played horribly on the road in this series. There may be a change tonight as Thomas smells blood and will look to exploit that. Washington was humiliated the other night. You can expect them to come back to redeem themselves. But will that be enough to force a game seven in Boston? Here's the skinny, the Wizards are favored by 5.0 points. This should be a fairly close game. Our Celtics play Wizards NBA playoff free pick is Boston at +5.0 We are also taking over 216.
Celtics Play Wizards NBA Playoff Free Pick: Boston at +5.0 and over 216