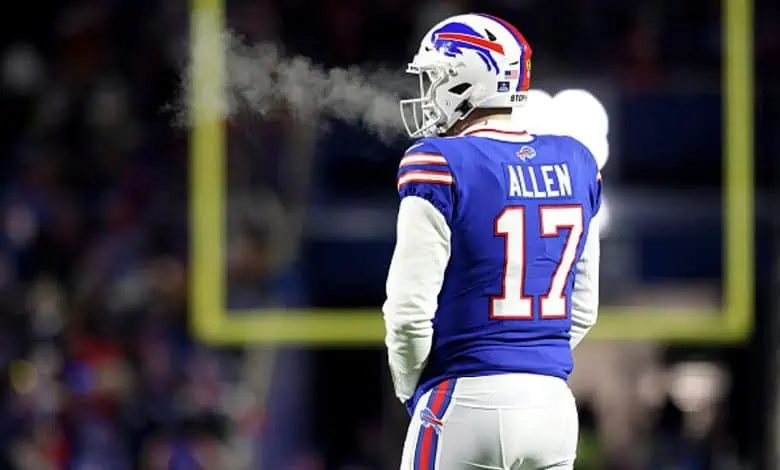 Week 12 of the NFL Season kicks off on Thursday Night Football when the Buffalo Bills travel back to Detriot to take on the Lions.
Buffalo opened as 9.5-point favorites, playing their second game in Detriot in a row after heavy snowfall forced Bills Mafia to relocate for Week 11.
Can Buffalo cover the large spread? Will Detriot keep their momentum going? Let's dive in and break it down!
Scoring Factors
With the line set at 52.5 total points, the under seems like the best bet for Thursday Night Football. While Buffalo does have the 2nd best scoring offense at 28.1 points per game, and Detriot is dead last in scoring defense, allowing 28.2, it still won't be enough to get the game to 53 points.
PrimeTime games have been underwhelming this season, and with a defense as elite as Buffalo's, you'd have to imagine that Josh Allen and his offense will have to bear most of that point load.
Meanwhile, Allen is limited in practice this week with a lingering elbow injury, suggesting that maybe their high-powered offense won't be firing at all cylinders come Thursday. Not to mention that the last time a game between these teams even broke 40 points was back on October 27, 2002.
Take the under.
What about that spread?
This is a tough one. The Bills have all the offensive firepower and defensive tenacity to make this thing a blowout, but Detriot has been competitive in almost every game this season.
Besides being shut out against the Patriots and only putting up six points against the Cowboys, the Lions have also lost four games this season by five or fewer points.
Detroit is 6-4 ATS this season, while Buffalo is only 5-4-1. The Lions have a lot of momentum after an underdog victory over the Giants last week.
Along with with the questions surrounding Josh Allen's elbow muddying the waters, taking Detriot to cover seems like the right bet. Besides, we'd all like to see a close and entertaining game on Thursday Night!
Not One, Not Two…
Detroit RB Jamaal Williams is coming off a three-touchdown performance when the Lions beat the Giants this past Sunday. This triple dip of endzone bliss brought his total to 12 TDs on the season. He has at least one touchdown in six of his games and at least two touchdowns in five games.
That puts the statistical odds of him scoring two or more TDs at a coin-flip, as this will be his 11th game played. Don't forget either that in two of those games where he did not have a touchdown, neither did anyone else on the Lions!
If you believe the Lions will score more than six points, you should also believe that Willaims will have a hand in it.
Summary
Expect a low-scoring, tight game that isn't reflected in the spread. The Lions are hungry and have the firepower to make the game close, but the elite defense of Buffalo will ultimately pull out the victory.