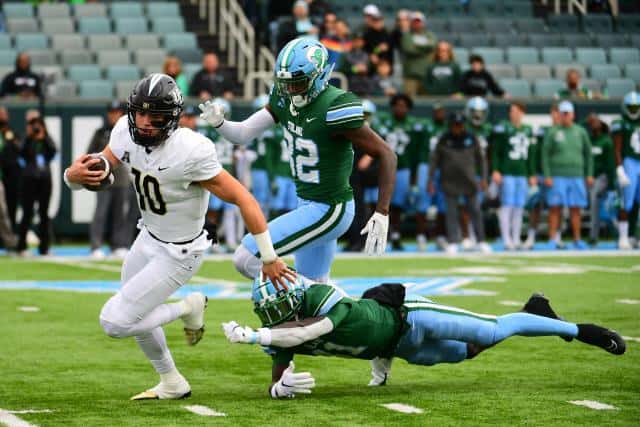 The stakes are a bit higher this time around, but Central Florida has to have some confidence coming into Saturday afternoon's UCF at Tulane betting matchup knowing they just beat the Green Wave 38-31 in week 11 as +1 point underdogs. The Knights are seeing a much higher +3.5 point spread in the rematch for the AAC Championship.
The Green Wave have answered the bell nearly every time they've been questioned this season, including a 17-10 win over Kansas State in week 3 as a +13.5 underdog and beating AAC stalwart Cincinnati last Friday 27-24. Tulane has another big test on Saturday afternoon, and just a slight 51% of the public are backing them here.
UCF a Solid Road Team
The AAC, like the Mountain West, does not have a neutral site championship game which means the Golden Knights will play a true road game on Saturday afternoon. That might not bother UCF, not just because they've already won in Tulane this season but also because Central Florida was 4-1 in road games this season.
What may bother UCF coach Gus Malzahn aside from location, is the health of his QB John Rhys Plumlee who was very instrumental in the previous win over the Green Wave. Plumlee threw an 8-yard TD pass vs Tulane in week 11 but also added 176 yards and 2 TDs on the ground. Plumlee pulled up lame with a hamstring injury last week vs. USF, but he is expected to at least try to play in the UCF at Tulane betting matchup.
Tulane has a challenge stopping UCF's AAC leading offense in yards gained (486.5) but the Knights have to have some questions on defense themselves after giving up 39 points at USF last week. South Florida ran for 298 yards last week, and although the Bulls have a solid ground game (199.1 ypg) overall they're one of the worst teams in college football.
Tulane Tries to Finish the Job
Willie Fritz has enjoyed his best season in 7 years at the helm of Tulane, probably because his job was getting close to being on the line after a 2-10 record in 2021. Instead the Green Wave have flipped their record to 10-2 and Fritz may be gone for different reasons – reportedly receiving interest for the Georgia Tech job this week.
Like a lot of good teams, what makes Tulane so dangerous is their balance on offense and defense. The defense for example held Kansas State (who is playing for the Big 12 Championship) to 10 points earlier in the season (although it was a windy day) and did a decent job of holding Cincinnati to 102 yards passing last week (although they were without starting QB Ben Bryant).
Whether it be wind and rain or opponent injuries it seems like everything is going Tulane's way this season. To be fair the Green Wave make their own luck as well though. On offense Tyjae Spears has gained at least 120 yards rushing in six straight games while QB Michael Pratt accounted for 4 total TDs in the first meeting with UCF (3 pass, 1 run).
Free UCF at Tulane Betting Pick
It's hard to go against a team of destiny like Tulane here, but with UCF already getting a win at Yulman Stadium this season and Knights coach Gus Malzahn being in plenty of these high-pressure situations during his time at Auburn you have to give the Knights a look here.
Free Pick: UCF Knights +3.5