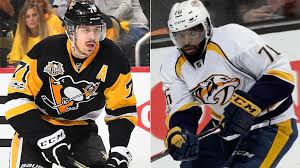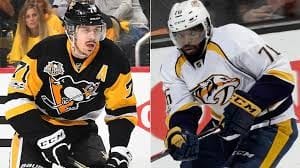 The first game of the 2017 Stanley Cup Finals is set for tonight, Sunday, May 29 at 8 p.m. E.T., and it will be played between the Nashville Predators and Pittsburgh Penguins on Pittsburgh's home ice. In the playoffs, Nashville has been a gritty, gutsy team anchored by the postseason's top-performing goaltender, while Pittsburgh has had to push and struggle, as their last two playoff series went to a seventh and deciding game. Our 2017 Stanley Cup Finals game one pick has the Penguins favored and at -150 while the underdog Predators come in at +155. The totals bet at 5.5 goals is +125 over and -145 under.
Who to Watch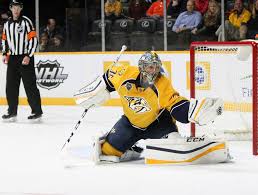 For the Predators the key will be goalie Pekka Rinne. He has played every playoff game and every minute there's been a goalie on the ice, he's been there. Rinne is 12-4 with a .941 save percentage and a stellar 1.70 goals against average. In the playoffs, he notched two shutouts. He'll be facing the top scoring team in the NHL.
The Predators will be without center Ryan Johansen and that's a big blow. Johansen had to undergo emergency surgery for acute compartment syndrome on his left thigh last week and will miss the rest of the Stanley Cup Playoffs. Still, Predator centers Filip Forsberg (8 G, 7 A, +17) and Colton Sissons (5 G, 5 A. +9) have a lot to offer. Also, look to defensemen like Ryan Ellis, P.K. Subban, and Roman Josi, who bring a total of 31 playoff points to the ice tonight, to be major contributors.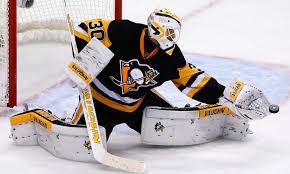 Along with being the top scoring team in the NHL, the Penguins come to this series having had the third-ranked power play in the league. In goal, Matt Murray took over for Marc-Andre Fleury partway through the last series against Ottawa and held the line overall against the Senators. Murray, who has a playoff record in 2017 of 3-1 with a 1.35 goals against average, .946 save percentage, and one shutout, gets the start tonight.
The usual suspects will be on the ice tonight for the Penguins. Centers Evgeni Malkin (7 G, 17 A, +8), Sidney Crosby (7 G, 13 A, -1) and Jake Guentzel (9 G, 7 A, -3) offer premium scoring potential. Plus, RW Phil Kessel (7 G, 12 A, +11) and D-man Justin Schultz (3 G, 7 A, +3) bring a whole lot to the ice. Kessel has five power play goals and six assists.
Five Keys to this Game
Goaltending on both sides
Nashville has to slow down Penguin offense
Pittsburgh defense has to step up
Physical battles can tip balance
Penguin destiny vs. Predator chutzpah
2017 Stanley Cup Finals Game One Pick
The first game of this series will begin at 8 p.m. E.T. tonight. As a first game, this one is tough to call. Will Rinne and his defense hold fast? Will Murray continue to excel in goal and can his offense perform up to expectations? Is Pittsburgh a team of destiny about to win its second Cup in a row or will the upstart Predators upset and undermine their quest? We see game one like this. Our 2017 Stanley Cup Finals game one picks are under 5.5 goals and the Penguins.
2017 Stanley Cup Finals Game One Pick: Under 5.5 goals -145 and Pittsburgh at -150