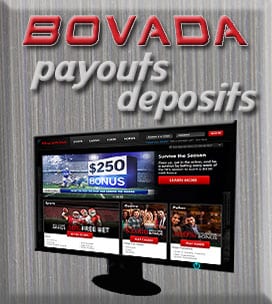 Payouts and Deposits could be the most important component of a sportsbook.  If players can't easily deposit they will go somewhere else and if a player need to be paid quickly or they will move on.  Sportsbooks like Bovada know this and keep it a top priority in their business plan.
My personal experience with Bovada
Background: I have used Bovada since 2004 (was Bodog from 2003-2011 on 12/14/2011 Bodog created Bovada to handle their US customers) and I only had 1 problem in those 10 years. In March 2011 (I actually looked the date up in my email!)  I had a check payout bounce.  I emailed support and they issued me a new check and covered my bank fees for the returned check.  I received that check 3 days later.
I am sure I have easily received over 100 payments over those years (full disclosure – some of it was for marketing their site on a poker related website I used to own and they paid to my player account).  In 2012 I did try to move from receiving checks to bank wires, but the Bovada payment processor at the time did not play nice with my bank 🙁 . I have always received my checks quickly (within a week) and have basically had no issues – and that's the reason I am pretty loyal to Bovada!
Update – In December 2014 I tried a bank wire (with my same bank acct that was denied in 2012) and success! I also received a wire in Jan 2015 with no issues.  All Bovada wires are now sent in Euros and converted to USD by your bank.  My bank just charged a $15 incoming wire fee.  There was no fee by Bovada and somehow with the currency conversion my actually amount received was about $50 higher than my cash out amount – bonus!
April 2015 – My bank wire was received 6 days after payout request.
January 2016 – Still receiving bank wires around the 5-7 day mark.  Their checks were really slow in December 2015.
Let's take an in-depth look at the Bovada payout and deposit options along with the current fees.
Bovada Payouts
Check by Courier
Bank Wire
Money/Rapid xfer
This is the most popular payout method. Request payout and you will get a check delivered to your door within 7 days (usually takes 3-4 days).
Fee: $50 or it can be your 1 free monthly payout
Minimum Payout: $50
Limit: $3K/each
This is a quick and easy option if it works with your bank. The wire will more than likely be in foreign currency and your bank will automatically convert it to your local currency, which means you bank will probably charge you an incoming wire fee and possibly an international wire fee. Check with your banks fee schedule first.
Fee: $50 or it can be your 1 free monthly payout
Minimum Payout: $3K
Limit: $10K/each

Money Transfer and Rapid Transfer are 2 different/similar services. I would never use this option, but some might I guess. Put in your request and you will receive a code when your money is ready for pickup – which takes up to 48 hours.
Fee: $20-$100 and it CAN NOT be your 1 free monthly payout
Minimum Payout: $100
Limit: $1K/each

So basically, 1 free Bovada payout a month – either a check or a wire.  Note – The wire has a $3,000 minimum and will probably have additional fees added by your bank.
Bovada Deposits
Credit Card
Gift Cards
Money/Rapid Xfer
Currently only Visa is offered for deposits. Make sure your credit card is able to make internationally purchases. CC verification may be required..
Fee: 4.9%
Min Deposit: $20
Limit: $2K daily
These are those prepaid credit cards you can buy at convenience stores and some grocery stores. Make sure it is able to make internationally purchases.
Fee: 4.9%
Min Deposit: $20
Limit: $2K daily
Money transfer services are really easy and Bovada will
reimburse your fees
for transfers over $300.
Fee: varies by the money transfer service
Min Deposit: $100
Limit: $5k
My Deposit Example
I made a small credit card deposit for this article, so I could see all the current deposit and payout  fees and options.  I was presented with the 3 deposit options that are listed above.  I went for the quick and easy credit card deposit.
I easily deposited $90 which was $94.41 with includes the standard 4.9% bovada fee for credit card processing.  I don't love the fees (and other books like BetOnline don't have cc fees), but I don't think it's outrageous and I like the fact that they are not hiding it, it is clearly stated on the deposit screen.  I lacked out my personal deposit information.
The whole deposit process took 30 seconds and then I had an extra $90 in my account and ready for some NFL betting this weekend!
If you have any questions about Bovada deposits or payouts, contact me and I'll tell you what I know. Obviously, some of the information (like check location), I did not want to put out there in the public.
Visit Bovada
Page Last Updated: January 2, 2016