Sports Interaction Review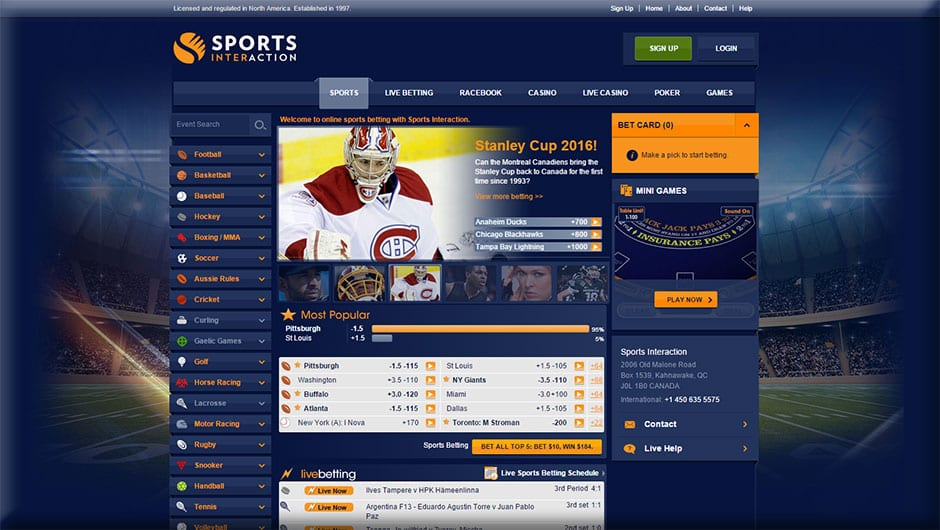 Sports Interaction Review
In a Nutshell...
Sports Interaction has been around a long time. They used to be open to the US, but are now concentrating on Canada only. All in all they are a great sportsbook..
Positives
Licensed & Regulated in Canada
Over 20 years in the business
Negatives
Only available in Canada
There are two things that stick out when a person goes to register at Sports InterAction (also known as SIA). The first is that the site is one of the most aesthetically pleasing in the industry with all the available sports laid out in a table on the left side and a home page that also features most popular bets, live bets, and even the active wager card for registered users. This layout is very enticing to sign up until you get to about the fourth drop down in the sign-up page that says "sorry we do not accept USA customers."
In May 2011 Sports Interaction followed the model of sportsbook.com and many other books that no longer allowed the registration of new U.S bettors. The United States has repeatedly made it harder and harder to deposit money into offshore accounts and SIA decided it was simply no longer worth the hassle and risk.
Company History and Reputation
SportsInteraction is one of the most recognized names in the industry, mostly because it has been around since 1997 – one of the first and longest lasting sportsbooks out there. Today their business model has shifted from a user-friendly website interface to being one of the most innovative mobile betting platforms of any book. The company is based out of Canada and besides the U.S they also restrict players from both France and Australia. Those fortunate enough to gain access to the site can enjoy a plethora of betting options and reliable service that has earned SIA a B+ rating that has maintained since 2011.
The SIA Betting Interface
Just because SportsInteraction has become known as arguably the best mobile betting site in the market doesn't mean they've gotten lax on their website upkeep. In fact SIA is perhaps the most user-friendly web based sportsbook as well.
There is no shortage of wagers to bet on at any given time ranging from the standard NFL, MLB, NBA to the International cricket, Aussie rules football, rugby, snooker, handball, volleyball, and more. Hovering over each sport on the SIA home page shows the number of bets available, sometimes as high as 25,000+ in a popular category such as soccer.
The SIA home page also has a central hub that features the top five most popular bets of the day as well as some of the top live betting options currently available and also the last minute bets set to be locked in shortly. These features are what makes both the mobile betting and web-site wagering so popular with SIA – it offers a real-time sportsbook feel. Clicking on the category will take you to the individual games which also feature multiple betting options within them (alternate lines, reverse lines, halftime scores, etc.)
Promos
The current 2017 Bonus is a $100 CDN Bonus.  This works as a 10% deposit bonus up to $100 with a 10x rollover betting requirement.  An easy $1,000 deposit will max the bonus out at $100.
Most of the Sportsinteraction bonuses are seasonal and limited mostly to major events. The Super Bowl, NCAA Tournament, and major events in golf (Masters), auto racing (Daytona 500, Indy 500), soccer (World Cup) are the best times to look for reload bonuses or free bets. Sportsinteraction's main promo is a 10% match on your first deposit, although it is limited to $100. For those looking to deposit and play at Sportsinteraction it's important to do so with a full amount to take advantage of the "free" $100 and to follow the site on twitter for regular updates on any promotions and bonus codes.
Ease of Deposits / Payout Options
Those who are able to register with Sports Interaction will enjoy a variety of depositing options. The site will take a check, Mastercard, Visa, and many of the major online e-Wallet payments. They also pay out in an e-check, a paper check, or a wire transfer. One nice thing is that SIA claims their payments will be sent to you in only one business day which is an incredibly beneficial feature.
The main theme that Sports Interaction invokes is regret…that it is not open to U.S players. The site is very user-friendly and has supposedly almost-instant processing of deposits and withdrawals. Most importantly SI offers a huge amount of games to bet on with multiple option within those events.
It's frustrating that a sportsbook located in North America restricts opening a new account to their neighbors from the South (USA). Unfortunately that's the world that the Unlawful Internet Gambling Enforcement Act of 2006 brought when it changed the face of online sports betting for U.S customers. Those who are able to create an account at SIA should consider themselves lucky.