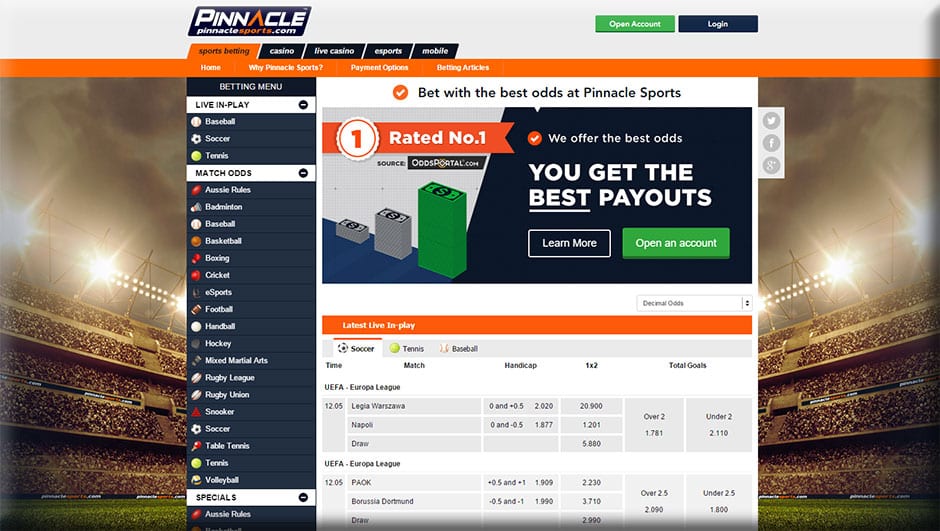 [review]
Is it time for a new sportsbook or looking to get into online sports betting for the first time? You've come to the right place. In this exclusive review of PinnacleSports.com, you're going to find out why we think so highly of Pinnacle Sports and why we think you'll want to make this your place to wager. Or, at least, one of the places you gamble. Here is some basic information about this online sportsbook. Pinnacle Sports offers betting lines on virtually every sport. You can get unlimited action. Wagers can be done in the form of straight bets, parlays, teasers, futures, and more.
Pinnacle Sports appeases to the versatile gambler. They have a complete online casino, including all your favorite games such as blackjack, slots, and video poker. You can even get down on some eSports, if that's up your alley. Pinnacle Sports is an exciting place to bet on sports for the hardcore bettors and the recreational gamblers. They offer high roller benefits and promotions for the casual players. To learn more about Pinnacle Sports, please read on…
Company History and Reputation
Pinnacle Sports was established back in 1998. This company has built an impressive, unrivaled reputation among all types of gamblers- not just sports bettors. This gambling site was built to create a gimmick-free option for casino players and sports bettors. While many sportsbooks attract players with cheesy gimmicks, Pinnacle Sports takes the approach of simply giving bettors what they want- namely decent odds and lines on thousands of sporting events. Their reputation is excellent around the world, having serviced satisfied customers in more than 200 countries.
The Betting Interface
Without question, PinnacleSports.com is one of the simplest online gambling sites you'll ever find- no hyperbole. We absolutely loved how simple it was to log into a Pinnacle Sports account and how quick it took to view the betting lines and place a bet. Pinnacle Sports is available to you anywhere in the world, on a computer or on your mobile device. You don't have to be logged into your own personal computer to get down on a game. This makes Pinnacle Sports a convenient place to bet on sports.
Pinnacle Bonuses
If there is an area where Pinnacle Sports is lacking, it's certainly in the bonus department. Unfortunately, they don't offer any deposit bonuses. They decided years ago they were going to stick with a gimmick-free mentality, which means they won't try to lure players with gimmicks such as bonuses. This is a bit disappointing. However, the real bonus to playing at Pinnacle Sports is they offer some of the best sportsbook odds you'll ever find. But if getting a free play or free cash bonus is something you absolutely must have, this isn't the sportsbook for you. Don't worry. There are plenty of other great places to wager. Casino players will receive a 0.3% rebate bonus with no limits. If you are an avid slot machine player, this bonus will add up quickly.
Ease of Deposits and Payout Speed
Although Pinnacle Sports is lacking in the bonus department, they certainly aren't lacking in the banking department. This is one of the easiest sites to make a deposit and one of the fastest paying online casinos. It's rare for a customer to have a complaint about Pinnacle Sports banking or customer service. All deposit methods are processed in real-time, which means you can get to gambling right away. Those deposit methods are as follows (for United States customers): click and buy, Visa, MasterCard, EntroPay, iDebit, InstaDebit, Moneta, NETeller, Qiwi Wallet, Skrill (Moneybookers.com), and WebMoney.
Credit/debit cards require a minimum $25 deposit up to a maximum of $1,000 per transaction and $5,000 monthly. All deposits are free except for Qiwi Wallet (2.5% transaction fees) and iDebit (1.25% transaction fees). Additional deposit methods may be available in your country. There are dozens of worldwide options. Check with PinnacleSports.com prior to making a deposit to see which options are available where you live.
Another area where Pinnacle Sports hits a homerun is with payouts. They pay winners as fast as anyone and give customers multiple options on how to receive their winnings. In the United States, the following are the withdrawal choices: Click and Buy, EntroPay, iDebit, InstaDebit, NETeller, Qiwi Wallet, Skrill (Moneybookers.com), or WebMoney. A $15 fee applies to all withdrawals ($20 for Qiwi Wallet). To request a withdrawal, go to the cashier and follow the instructions. Withdrawals are processed within minutes. You will have your money quickly.
Our Opinion of Pinnacle Sports
We have covered most of the ins and outs of Pinnacle Sports. As you learned, Pinnacle Sports is a convenient online sportsbook with nearly every sporting event on the board. It's also one of the quickest paying online sportsbooks and offers tons of deposit options. Those are the main positive aspects of Pinnacle Sports. The negative aspect is there aren't any deposit or reload bonuses offered. That's quite disappointing. However, the good far outweighs the bad. Now it's up to you to decide if you're cool with trading in a deposit bonus for the best odds around.