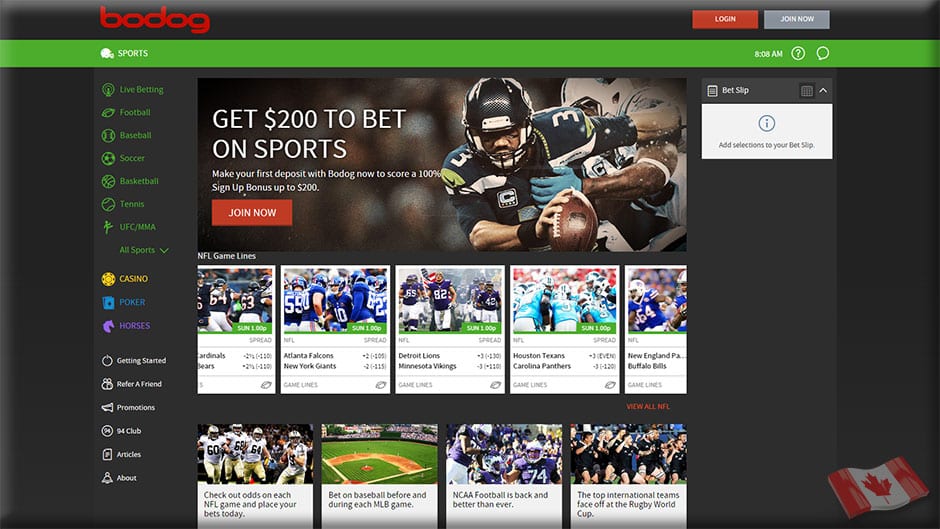 In a Nutshell...
Bodog is legendary and is always a good choice for Canadian sports betting..
Deposit/Payout Options
8.8
Bodog.eu is based in Antigua and is open for business for Canadian players since 2009 and does not accept players from the US and the UK.  US players can use the Bovada sportsbook.
Company History and Reputation
One thing Bodog has going for it in the competition to be the most popular sportsbook in the world is name recognition. The site has put a substantial amount of money into marketing which includes web ads plus TV and radio spots. All this familiarity and name-branding leads people to feel comfortable with the site and the Bodog.eu is a very popular sportsbook in Canada.
Bodog.eu is not the same company as the bodog.com that was seized by the US Dept of Justice. The only thing the same is the very brandable and popular name, other than that it is a completely different business ran by a different company. Bodog.eu is fully licensed and regulated in the Caribbean Nation of Antigua. The Antigua and Barbuda Financial Services Regulatory Commission has made sure bodog.eu is in compliance and is 100% certified by Gaming Associates.
What happened to bodog.com?
In February 2002 federal prosecutors went after the Bodog.com website and four management personnel including founder Calvin Ayre on charges of illegal gambling within the US and money laundering. Ayre remains on the Homeland Security '10 Most Wanted' list and it should come as no surprise that American bettors are not allowed to register with the Bodog.eu sportsbook.  Calvin Ayre has retired and has nothing to do with the bodog.eu sportsbook.
Just because U.S players aren't allowed doesn't mean Bodog is without one of the most streamlined and efficient web sites in the game. Bodog as a whole has been around since 1994 and they have maintained an A rating since September of 2010. The company is constantly upgrading their software to create the improve the functionality of their website, something regular players should reap benefits in regards to live betting.
Betting at Bodog
For all their software improvements Bodog still isn't the easiest book to navigate. The site may have you 'jumping' around from category to category. That being said, all the available sports are located conveniently in a sidebar to the left after clicking on 'Sports' on the home page (included with Casino, Poker, and Horses).
There is no shortage of available events to wager on either with Bodog's selection rivaling the best in the industry. In addition to the major North American sports the site also features basically every other event from tennis to rugby to crickets to darts to snooker to volleyball to Aussie football and more. Basically if there's a competition Bodog probably has a line.
Those who love exotic bets will find the ultimate home at Bodog as their available wagers extend far beyond the realm of sports. Some recent props the site offered included 'which Game of Thrones character will perish next' and 'what show will win Outstanding Drama Series' at the Primetime Emmys. Bodog also features a number of political bets and is one of the rare sites to offer lines on video game competitions, or E-sports.
Sports that you want to bet on are instantly added to a betting ticket sidebar that presents the user options within itself. The bettor can choose whether it is a straight bet or continue through the site adding events to the ticket to make the wager a parlay. This is a nice feature as it allows parlays across multiple sports, many of which allow the bettor to buy points. One thing that's noticeable is that Bodog is somewhat limited on the options they have within wagers such as alternate lines, or adding or subtracting points to get different odds.
Bodog Promos
Bodog is one of the "100% match" sites when it comes to deposits although the fine print reveals that is limited to $200 and only on the first deposit. There is also a 200% refer a friend bonus which is limited to $100. It seems that most of the promotions and rewards offered through Bodog lean towards their casino and poker rooms which feature almost daily specials.
Ease of Deposits / Payout Options
Although not eligible for U.S or UK players (ironic because of the .EU domain) there are a number of deposit options for their members. Bodog allows both Visa and Mastercard deposits including prepaid Visa cards which are nice for privacy and security. The other main deposit method is an instant e-check deposit.  And the other option is an interac e-transfer which allows you to deposit from your personal chequing or savings account using Interac e-Transfer via online banking.
The top withdrawal method is actually via check ($3,000 CAD max per week) which are free once a month and usually arrive within two weeks.  The other option is a bank wire ($9,500 CAD max per wire).
Bodog is a recognized icon in the landscape of online sportsbooks and since the site is focused on Canada, it should be a top option for all Canadians. While the site can be clunky at times the sheer volume of sports and exotic wager options available make a Bodog account a must-have. They won't give you the best betting options within a game, but the variety of games and sports should make up for that.