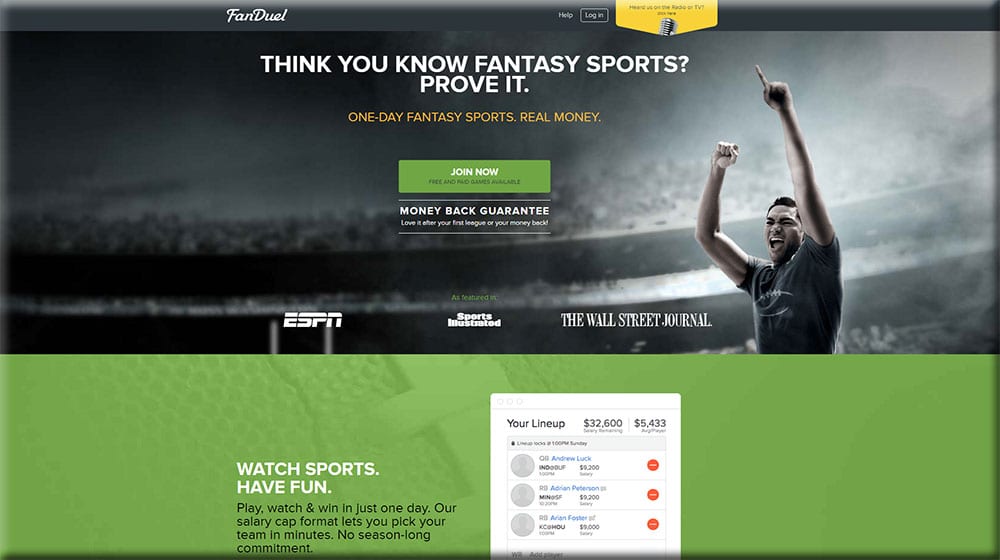 [review]
FanDuel has been in business since 2009 and continues to be an industry leader. Over the years they have built a large customer base, while growing the prize pools, and sustaining growth. FanDuel is partnered with 15 NFL teams and 16 NBA teams, which only helps grow their customer base. When FanDuel began to operate the prize pools were significantly smaller than they are today. Now you can qualify for live finals in various cities across the country and compete for a million dollars in some instances. FanDuel has done a great job of appealing to the masses over the years, which will only become more apparent down the road from today.
Sports available at FanDuel
For playing purposes FanDuel offers contests that include the NFL, NBA, MLB, NHL, and offered college sports up until last year when the NCAA declared they wanted no part of it. The contest lobby is easy to navigate from sport to sport or entry fee to entry fee. FanDuel has stayed on the right side of legality and yet to push the envelope by adding new sports to play like many other daily fantasy sites have done. Many sites now offer golf or soccer, it will be interesting to see if FanDuel decides to go in that direction or stand pat with the sports the offer today. I personally don't see FanDuel offering golf, but could see them diving into soccer as it continues to grow a following in our country.
Payments are Quick and Easy
Depositing money into your account is easy, FanDuel accepts Visa, Mastercard, Discover, AMEX, and even PayPal. The minimum deposit is $10 which can be annoying if you are looking to just play a single contest and see if you enjoy the site. There are no fees to deposit money, and it hits your account immediately. On the flip side FanDuel withdraws are also very simple, the easiest payout method would be PayPal. PayPal withdraws usually take less than 48 hours to complete. Another option is to request a check, but it will take 7-10 days for a check to get processed and sent out to your address. One thing you should know is once you win over $600 you will have to pay taxes, FanDuel will issue you a 1099 form in the mail and ask you some basic questions to verify your identity.
Past FanDuel Problems
Let's dive into what has got FanDuel.com into some trouble over the years. Marketing frenzy – some of the earlier marketing campaigns sounded like broken records. They insisted that anyone could be a winner, which is true to a degree but it's not as simple as they made it out to be. Another big issue FanDuel has had to work against was users using scripts to input lineups.  Basically people were up in arms that some users had a model to import hundreds of lineups in seconds compared to hours of work by doing it all by hand on the computer.
Fanduel has resolved the minor problems listed above in a timely matter.  The other area that is dicey (and not just for FanDuel) but the entire industry as one – Legality. Are daily fantasy sports legal? This has been the question that states want an answer for and even causing some states to ban DFS all together. Basically this industry has grown so much that states have become weary on how the capital in generated. Individual states want to make sure the players funds are safe and of course they want a piece of the action.
The short answer is FanDuel will pay a licensing fee to operate in the states.  Licensing seems simple enough but when things go to court for a vote you never know which way it's going to go. Luckily for many of us, it appears things will work out and FanDuel will remain operable across most of the country.
Win your 1st Contest or Get it Refunded
Ok, but is FanDuel Legal?
FanDuel will continue to be a leader.  The biggest questions of legality, sports to offer, and how to continue growth still remain a little cloudy to many of us. Overall FanDuel is a great site that offers various contests to appeal to anybody.  After the legality issues get all cleared up, FanDuel will still be a leader in the fantasy sports space. I personally believe many of the issues FanDuel has dealt with is a learning curve to a new industry and not so much about the legality of the landscape. Fantasy sports have been alive and well for over 20 years. The daily fantasy space has just provided us with more options and ways to enjoy sporting events while growing the market of each individual sport.