BetUS is Not a Safe Place to Bet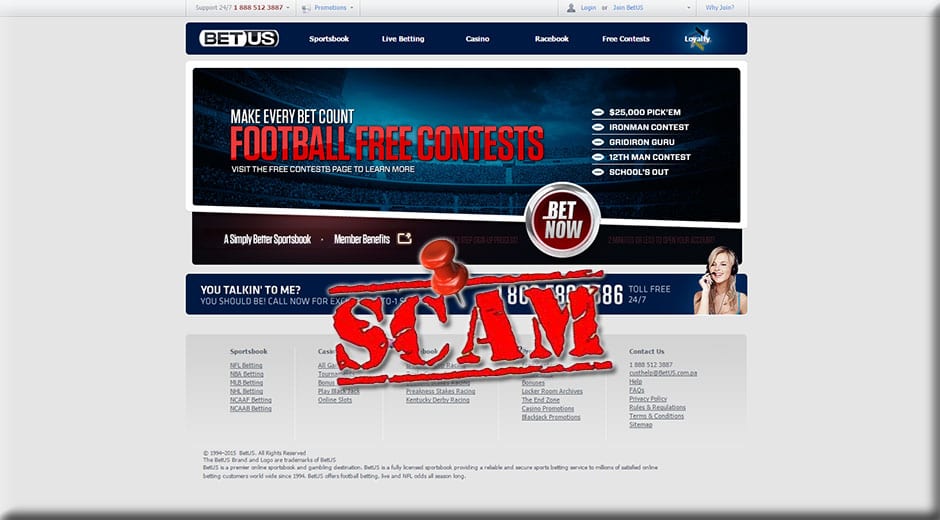 Negatives
Bad Reputation
Does not always payout
Numerous reports of very slow payouts
If you Win Big, Bets may be Cancelled
What BetUS does not allow you to do is win big, and that is the biggest gripe that nearly anyone who has used the site has. Betus.com.pa believes George Clooney's line from Ocean's 11 "The house always win" by not allowing big winnings from any of its players. The way it is able to get around this rule is defined in its Terms and Conditions that disallow anyone but recreational gamblers from the site. What that condition should mean is that if it is discovered that a gambler on the site is in fact a professional (that is, gambles on sports for a living) then he or she can be denied from participating on the site. Translation: What it actually means is if you win big, then the site will consider you a professional gambler and in essence cancel your winning bets.
The site doesn't consider the behavior of the gambler or even necessarily the history of the gambler. Their proof is simply that you won too much money so therefore you must be more than an amateur.. In August 2014, for instance, a complaint was lodged through SportsbookReview.com, when a player's account was closed following almost $8,000 in winnings. BetUs classified the player as a non-recreational sports bettor. But this was done after the bets were made. In essence, Betus took the bet with the intent of not paying out on any winnings.
The BetUS Payout Problem
Just a quick Google search reveals hundreds of similar scenarios and others that are much more troubling. There are instances of bounced payout checks, requests for higher deposits to be made before withdrawals can be done, and payouts being done via gift cards. A major complaint is how difficult the site makes just requesting a payout. And they payout speed is much much much longer than other sportsbooks.  While they easily take deposit (with just some credit card information and the click of a button, to get your money out they ask that you email a scanned image of your credit card (both the front and back), a scanned image of your state ID, and a form you download from the site (which also must be scanned). The site may also requests your banking information, account numbers, bank address, routing number. The end user then has to wait for the site to approve the withdrawal, which can and will take several days, if not weeks, and that's just for your payout to be approved.
While I want to say the site is geared towards small time players, that is simply not the case What the site essentially wants is small time winners and big time losers. Players seem to be encouraged only to win a little amount of money, with the threat of having your bets cancelled if the winnings are too much. While the promotions and bonuses are nice, they cannot cover up the fact that the site simply will not let you make significant winnings. Betus.com has perfected the "house always win line," because even when you win big, you ultimately lose.
Betus.com.pa (formerly betus.com) has around since 1994, and online since 2000. With offices in San Jose, Costa Rica, the site advertises bonuses on every single deposit made (with the bonus amounts tied into the deposits made). These bonuses include up to a 55% sign up Bonus, a 5% casino chip bonus, a 25% refer a friend bonus, and a 10% 10% Gambler's Insurance, where the site will give you a bonus equaling 10% of your wagering losses twice a year (though not included in this insurance are any bets made during the football season. It must be remembered to make a request for this insurance payout, as the site will not automatically credit your account). Obviously, the larger the deposit the better the bonus (there are seven membership packages, each tiered based on deposit amounts, though the gambler's insurance remains at 10%).
Bonus
Bonuses are entered into your account as a separate free play balance (standard for most online betting sites, as this will not allow you to simply withdraw the money as cash). These bonuses can be used on a number of bets (straight, two and three team teasers, and money lines on positive payouts up to $140), with the cash received being the winning minus the bonus amount.
Deposits
Betus.com.pa accepts all major credit cards and wire transfers (Visa and Mastercard being the biggest, and as with most gambling sites, American Express is not accepted). The site does offer a 1-888 number for questions.
Betting
The site allows bets on over 50 sporting events, as well as horse racing and an online casino. For sporting events, all the common bets are allowed (straight bets, , Teasers, Special Teasers, Parlays, Reverses, Round Robins, etc.). The site also offers half-time lines and a proposition bets. It also offers free contests, where real bets allow users to enter in a contest (for instance, picking every game each week of the NFL season), with weekly and yearly winners winning free play money.
Casino
The Casino has blackjack, poker, table games, slots and even Bingo. It does have several tournaments open per day though I could not find any Texas Hold 'Em Tournaments listed. For this year you can also bet on politics (who will win the Democratic and Republican nominations, for instance).  If you like money, you should never play their casino games.
All in all, the site offers a lot. While the sports betting s and casino are pretty standard (and the absence of some tournaments is missed) the site does offer some nice bonuses (especially the gambler's insurance, a big plus for those of us betting on basketball, baseball, hockey and soccer). It is important to remember that these bonuses are, in essence, free bets to be made (as they are not like sites like Bovada, which offers cash bonuses). But let's be serious…most times you will turn those bonuses into bets anyway, and through betus.com it gives you more chances to gamble.