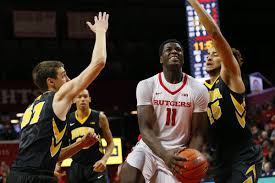 Our 2018-19 Rutgers Scarlet Knights basketball preview projects this team as finishing last, once again, in the Big Ten. In their first four seasons as a part of this conference, the Rutgers Scarlet Knights (15-19 Overall, 3-15 Big Ten) have ended the season in last place. In those four years, they have gone 9-and-63. Although the Scarlet Knights posted sound numbers on defense, allowing just 64.8 PPG, their stats on offense were dismal. Rutgers shot 37% from the floor and averaged 65.1 PPG (14th Big Ten). There is certainly some talent on this team. But we doubt there's enough to allow them to be consistently competitive in the Big Ten. Here's a look at this year's edition of the Rutgers Scarlet Knights men's basketball team.
Frontcourt
There are two "Shaqs" in the paint for Rutgers. Senior center Shaquille Doorson (1.8 PPG, 2.9 RPG, 62.5 FG%), who is seven-foot-even, will look to expand his influence in the post this season. Junior Shaq Carter, a transfer from Eastern Florida State, who averaged 8.0 PPG and 7.0 RPG last season, joins the team. He comes to the Scarlett Knights as the 12th-ranked junior college prospect in the nation. Forward Eugene Omoruyi (7.9 PPG, 5.0 RPG, 47.3 FG%) brings sound stats and experience into this season.
Backcourt
Although he had a year of eligibility left, point guard Corey Sanders left the Scarlet Knights but was not selected in the NBA Draft. With Sanders gone, there is a scoring void that needs to be filled. Sophomore guard Geo Baker (10.8 PPG, 2.6 APG, 38.0 FG%) proved to be an asset on offense last season. He'll take the point. Quinnipiac transfer Peter Kiss, a sophomore, is a fine athlete with winning offensive skills. On the wing, returning junior Issa Thiam (7.0 PPG, 4.0 RPG, 47.7 FG%) is expected to take his game to the next level this season.
2018 Rutgers Scarlet Knights Basketball Preview – Final Word
Head coach Steve Pikiell, who starts his third season at the helm of the Scarlet Knights, believes his team can show improvement this year. But Pikiell will be coaching a team that has lost three of its top four scorers. Still, the coach, who is highly respected, is optimistic. He sees four players returning who put in quality minutes last season. Plus, there's some solid, new talent on-hand. Despite, Pikiell's optimism, we think that the Scarlet Knights need at least one more season before they can dig themselves out of the Big Ten cellar. Our 2018 Rutgers Scarlet Knights basketball preview envisions this garnering a few more wins than they did last season. That would be progress. 
Big Ten News and Updates