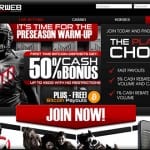 WagerWeb Review
In a Nutshell...
WagerWeb has come a long way and is becoming a decent book. Bonus is confusing, so read the bonus terms before depositing.
Deposit/Payout Options
8.9
Positives
Very clean and easy betting interface
3 Different Bonuses depending on your betting style
Plenty of Deposit Options
Negatives
Bonuses can be confusing
There are thousands of online sportsbooks. But only a small percentage are trustworthy and reputable. WagerWeb is in the minority. This isn't one of the biggest names in online gambling. In fact, many of you have probably never even heard of WagerWeb. But it's certainly worth learning about, which is what you'll do in this exclusive review of the WagerWeb.eu sportsbook site.
Company History and Reputation
The reputation of an online sportsbook is extremely important. If you come across a sportsbook you're interested in joining but discover the Internet is flooded with complaints about that sportsbook, run away and don't look back. The current WagerWeb reputation is that of a sportsbook that is continually improving, trustworthy, and offers sufficient 24/7 customer service.
WagerWeb.eu has proven its track record over the years. Their staying power proves this is a solid, popular online sportsbook. The company operates out of Costa Rica and this site has been around since the early days of the online gambling industry (1994).
Ease of Use
WagerWeb.eu is so easy a baby could do it. Except, a baby shouldn't do it since online gambling isn't legal for those at that age! But you get the point. Even if you aren't the most technologically advanced individual, you won't have any trouble navigating through the mobile or computer app. This is a very convenient online sportsbook. You can access your account and bet on games from anywhere in the world via a computer or mobile device.
Bonuses
Who doesn't love a nice bonus? It's difficult for us to recommend any sportsbook that doesn't hook its players up with a decent amount of free money and/or free bets. Therefore, you can rest assured WagerWeb is bonus friendly. WagerWeb offers bonuses for recreational gamblers and high rollers. The following bonuses are available and subject to meeting rollover guidelines:
Elite Bonus: 10% Cash (or 15% Free Play) with an 8x rollover.  Also get a 1% cashback bonus based on your sportsbook betting volume paid every Monday.
High Roller Bonus: 20% cash back (or 30% Free Play) with a 10x rollover. No sportsbook volume cashback with this bonus.
High Bonus Special: 50% cash (or 75% free play) that has a 15x rollover. Weird term to this bonus: Your largest bet is limited to 20% of your deposit amount until you meet the 15x rollover requirement.
Bitcoin Special: Depositing via Bitcoin pays off at WagerWeb. You will receive a 50% cash bonus (or 75% free play) on your initial deposit with a 15x rollover. On your second deposit, you will receive a 1% weekly cash back bonus if you deposit via Bitcoin.
Ease of Deposits and Payout Speed
Sports bettors tend to avoid betting sites that don't have enough deposit and withdrawal options and take forever and a day to payout. WagerWeb.eu is one of the few websites that knocks it out of the park on both fronts. The deposit and payout processes are quick (always within 24 hours), easy, and painless.
Deposit options:
Visa and MasterCard (credit, debit, prepaid, gift, etc.)
Bitcoin
Person to Person money transfer
Money Gram
Cashier's Check
Bank Wire
If you deposit with Bitcoins, contact Client Services Support via live chat or email for instructions. Credit/debit card is the quickest and easiest way to fund your WagerWeb account. The funds will be available immediately when choosing this option. The process takes just a few minutes to sign-up and make a deposit.
WagerWeb Payouts
Min/Max: $500 – $3,000
Fee: $50
Speed: ~10 days
Available as a Free Payout: Yes
You can request up to 2 check payouts per week ($6k max).
Min/Max: $3,000 – $10,000
Fee: $75
Speed: ~3 days
Available as a Free Payout: Yes
Min/Max: $100 – $799
Fee: varies
Speed: within 24 hours guaranteed
Available as a Free Payout: Yes
Min/Max: $500 – $3,000
Fee: $50
Speed: ~3 days
Available as a Free Payout: Yes
You can get your payouts sent to a credit/debit card ($6k/week max)
Min/Max: $100 – $3,000
Fee: None
Speed: within 24 hours guaranteed
Available as a Free Payout: Bitcoin payouts are always Free
There is a $10,000/week limit for bitcoin payouts, which is very nice.
Payout speed depends on your withdraw option, but overall they are really pretty fast.  Bank wires are only available to players in the United States, Canada, and United Kingdom. Or, if you prefer the old school paper checks they are available but are the slowest method (takes about a week).
Free Payouts?
Yes, Free Payouts are available once every 30 days!  It's really nice that bank wires are included as a free option.  The odd thing is you can only request a free Wire or Money Transfer payout on Tuesdays & Wednesdays, but free check requests can be made anyday.  WTF is that?  Anyways this really is a free payout with no fees, not like some sportsbooks that charge you the payout fee and then refund it later.
Our Opinion of WagerWeb
You have many options when it comes to finding an online sportsbook. The industry is packed with many great sites, and some really bad ones. So where do we stand with the WagerWeb betting site? Without question, we are confident in recommending this site to you. Why? Because they have built an established positive reputation, offer a wide range of sports betting options, have a great mobile betting app, and pay winners quickly.
I just started using WagerWeb again (July 2015) after 2 years of not using them and I'm really impressed with their betting platform.  I like the fact that when you hover over the lines it tells you the max bet allowed.  I actually prefer their betting platform over BetOnline and 5Dimes.
The only downside to WagerWeb compared to some other top online sportsbooks is in the bonus department. It's not that WagerWeb's promotions are weak, but there are some better programs out there. There are so many different Wager Web bonuses that it is quite confusing.  Otherwise, this is a top-notch online sportsbook and is highly recommended to casual and hardcore sports bettors.