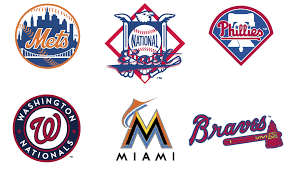 Our 2017 NL East preview offers insights into which of the five teams, if any, has the potential to dominate the division. Last season, the Washington Nationals took first and the New York Mets were good enough to secure the wild card. Will that scenario be repeated in 2017? This is an interesting division, as three clubs are trying to move up into contention, the Miami Marlins, Atlanta Braves, and Philadelphia Phillies. Of those three, our 2017 NL East preview sees the Marlins as having the best shot. But it's a long one.
Atlanta Braves
The Braves have made some progress in the off-season. After the 2013 season, this team has struggled to get into the playoffs, and they have failed. Last season they finished fifth. This is a team with a weak starting rotation that includes some failing vets. Their number one pitcher, Julio Teheran, is very durable and ably skilled. But there's a fairly big drop off after that. GM Coppolella made a big deal with the Arizona Diamondbacks to get supreme hitter and infielder Dansby Swanson. We think this should be an interesting team to watch, as the Brave's front office is actively engaged in its rebuilding efforts
Miami Marlins
The loss of Jose Fernandez in a boating accident will continue to be felt in 2017 by the Marlins. Manager Don Mattingly did a fine job in his first season last year. He came and created a good atmosphere while bringing along some of his former Yankee teammates as coaches. The Marlins have some fine young position players, but they are lacking in the pitching ranks. The big problem for this team is that owner Jeffrey Loria won't give President of Baseball Operations Michael Hill what he requires to create a deep and dynamite team.
New York Mets
The Mets got into the postseason in 2016 despite the fact that they had a large number of injuries. GM Sandy Alderson and manager Terry Collins ably dealt with the changing situation. The team's starters were hamstrung with injuries last season, but the team's bullpen performed exceptionally. Although for the most part, the club was average on offense, they ranked fifth in homeruns. Still, despite their penchant for hitting balls over the fence, they struggled to score runs.
Philadelphia Phillies
The rebuilding that the Phillies are looking to do is long overdue. This is a team that has not made it into thee playoffs for more than five seasons. To get this team in order will take years. GM Matt Klentak has made some helpful moves, but he has to make many more to get this team to a point where they'll be competitive. Billionaire owner John Middleton notes that he's committed to a quality team, but he doesn't want to do so by simply tossing cash at players. This will be a three to four year process.
Washington Nationals
The Washington Nationals come to the season with an exceptional starting rotation, but they have very little in terms of backup. Good health will need to be their mantra. The Nats do not have a premium closer and that could be a major concern especially if they make the postseason. They're also a good fielding team and the Nats have some decent hitters. Finally, Dusty Baker came in last season as manager Matt Williams was let go. Baker has created a fine atmosphere for winning.
2017 NL East Preview Predictions
In our 2017 NL East preview, here's how we see these teams finishing: