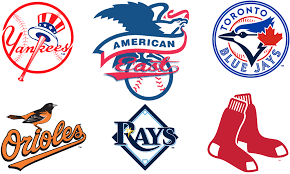 The AL East will most likely have two teams in the playoffs. Our AL East 2018 MLB preview sees two clubs being especially competitive. Those two are the New York Yankees and Boston Red Sox. Can any other team possibly contend for the top spot in the AL East or for one of two wild cards? Perhaps the Toronto Blue Jays will have a shot. Here's a quick thumbnail of each AL East team. For a more comprehensive look at each team, please click on the appropriate link.
The Orioles, which had been competitive a few years back, fell into last place in 2017, winning just 75 games. Their pitching staff needs to step up, as they struggled last year. With numerous players becoming free agents after this season, you may see Dan Duquette getting rid of a bunch of guys before the trade deadline. Consider this a transitional season for the Baltimore Orioles.
The Red Sox certainly have a very solid pitching staff, as they did in 2017. Despite numerous starters struggling last season, Boston managed to take the division. However, last season, as was the case in 2016, their playoff performance was less than exemplary, as once again they were eliminated in their first series. This is a team that has some good hitters and should remain competitive down to the stretch.
Somehow last season the Yankees managed to make the playoffs. This year a playoff appearance seems to be a no-brainer as New York comes to this season with a fine pitching staff and an amazing array of power. The addition of slugger Giancarlo Stanton seems to have sealed the deal for the Bronx Bombers. Of course, to get to the next level, they will need to play 162 games and win about 90.
Last season's 80-82 record tied the mark for the Rays best record since they made the playoffs in 2013 when they went 92-70. During the offseason, the team said goodbye to Evan Longoria, one of their top players. They still have a decent pitching staff that includes reliable ace Chris Archer and slugger Kevin Kiermaier. But they are in the toughest division in the American League, and that does not bode well for them.
We expect this to be a bit of a rebound season for the Blue Jays after finishing fourth in the AL East in 2017. It was not that long ago, 2015 and 2016, that this team was in the playoffs. But starting last season, they've decided to be a middle of the road ball club, and in the competitive East that's not good enough. The outfield is mediocre, depth is a major problem, and age is a problem. They have a couple of fine pitchers, with Aaron Sanchez being their best, and Justin Smoak and Josh Donaldson can put some pop on the ball. But their key guys have to stay healthy all season long for this team to be competitive.
AL East 2018 MLB Preview: Predicted Finish
Here's our projection for how teams will finish. Our AL East 2018 MLB preview sees two clubs from this division making it to the playoffs. For information on and links to other AL teams, see this page.