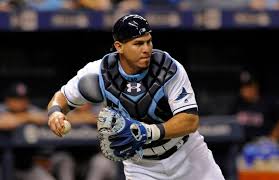 The last time the Tampa Bay Rays (80-82) made the playoffs was in 2013 when they won 92 games. In two of the last four seasons, they've finished fourth in the AL East, and in the other two, they've been third and fifth. Our Tampa Bay Rays 2018 preview sees this team as ending the season in fourth or fifth place. That's what happens when you get rid of productive vets like Evan Longoria. Despite the fact that they offer some quality players, the Rays have too many question marks to outlast top-performing and deep teams like the Yankees and Red Sox.
Pitching
The pitching staff is good and includes a rising star in the number one starting spot and a top-notch closer. Still, there's not enough to support consistency. With a rotation that has some definite question marks and a bullpen that simply needs more quality guys, this is a group that will start to show the cracks about midway through the season.
Starters
It's hard not to like ace Chris Archer (10-12 W/L, 4.07 ERA, 11.2 K/9) who has pitched 200-plus innings in each of the last three seasons. He has a smart fastball-slider combo. But Archer needs the finish strong, as he continues to end his seasons with a losing record and an ERA that's a plus-four. Jake Odorizzi (10-8 W/L, 4.14 ERA, 8.0 K/9), a righty, is a solid presence with good skills. Third in the rotation, lefty Blake Snell (5-7 W/L, 4.04 ERA, 8.3 K/9) showed promise as he went 5-1 and earned a 2.84 ERA in his last 10 starts of 2017. He's got a fine fastball off-speed combo. Young gun Jacob Faria (5-4 W/L, 3.43 ERA, 8.7 K/9) held right-handed batters to a .173 average, but ended up out in August with an abdominal strain. Matt Andreise (5-5 W/L, 4.50 ERA, 8.0 K/9) pitched 279 innings in 2017 and gave up 41 homers.
Relievers
There's certainly some good news here as closer Alex Colome (3.24 ERA, 47 SVs, 66.2 IP) returns. He'll be a stabilizing force. Most of the rest of the bullpen is comprised of untested hurlers. Just about all of their vets are gone. Two youngsters, Jose Alvarado and Ryne Stanek, also return. Both played some last season and impressed with their blazing fastballs.
Everyday Players
Probably the best offensive stat this team put up last year was their 228 homers (6th MLB). With a team batting average of .245 (25th) and a total of 671 RBI (23rd), they certainly had trouble scoring. The defense left quite a bit to be desired also.
Hitting
Left fielder Denard Span (.272 BA, 43 RBI, 12 HR) is a decent leadoff hitter and a solid base stealer. He managed to steal 16 bags last season. Kevin Kiermaier (.276 BA, 39 RBI, 15 HR), who plays center, has shown a lot of promise and may be ready to break out this season. He'll most likely bat second, while the third and fourth spots will feature right fielder Steven Souza Jr. (.239 BA, 78 RBI, 30 HR) and DH Corey Dickerson (.282 BA, 62 RBI, 27 HR).
Catcher Wilson Ramos (.260 BA, 35 RBI, 11 HR) looks to be in the fifth spot with the next few places in the order being questionable due to injuries and replacement issues. Brad Miller (.201 BA, 40 RBI, 9HR), who spent two months on the DL and had an off season at the plate, will most likely be at first. Matt Duffy, who missed the 2017 season due to complications from heel surgery, will like be at third. The bottom of the order includes second baseman Joey Wendle, who comes up from triple A after hitting the cover off the ball, and shortstop Adeiny Hechavarria (.261 BA, 30 RBI, 8 HR), a defensive player.
Defense
With a fielding mark of .963 (22nd) and a total of 129 double plays (26th), this is a team that has to improve in the field. Third and first are major concerns when it comes to the infield, while short and second look to be well-manned. Last season, Ramos had a tough time behind the plate when he came back from a right knee injury. Hopefully, he'll be back to his old form in 2018. Centerfielder Kiermaier makes tough plays look easy but has to stay healthy. Souza is talented and skilled fielder, while left is a question mark. It's hoped that Denard can fill the bill.
Management and Front Office
GM Eric Neander oversees the business aspect of the Rays with VP Chaim Bloom close at hand. They'll have to come to a decision on what path the Rays should take. Manager Kevin Cash starts the fourth year of what is a five-year contract. His record stands at 228-258, but the front office seems satisfied with his performance. There's nothing wrong with this crew, but there also seems to be nothing exceptional either.
Tampa Bay Rays 2018 Preview: Final Word
It looks like a tough season for the Rays. The division is stacked at the top and Tampa Bay has some important question marks. There's some solid talent on the mound, on the field, and at the plate, however, there's not a lot of depth. The rotation thins out quickly, especially in terms of experience. Our Tampa Bay Rays 2018 preview sees this ball club as playing some decent baseball, but still finishing last.
Projected Finish: 5th AL East, Record: 76-86