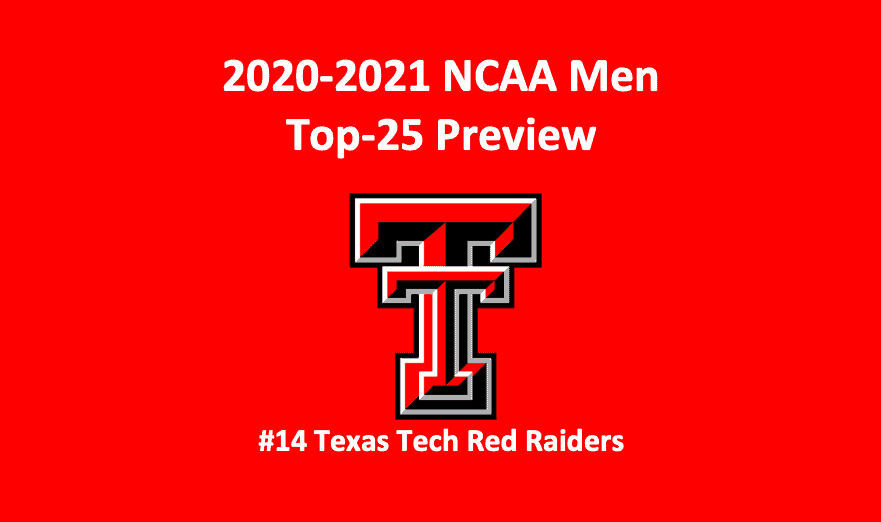 Our Texas Tech basketball preview 2020 – 2021 observes that this team fell off the map last season. In the two prior years, the Red Raiders posted consecutive 27-win seasons. But last year, the team was 18-13 overall and 9-9 in the Big 12. That conference record put Texas Tech in a four-way tie for third place and eight games away from the first-place Kansas Jayhawks. In 2019 – 2020, the Raiders ran hot and cold. They saved their coldest run for the end of the season when they lost four conference games in a row and five of their last seven. For coach Chris Beard and the team, it was a tough season defined by two losses to both Baylor and Kansas.
Stats
Statistically, there was certainly room for improvement. The two areas where the Red Raiders fell especially short were in rebound margin, which came in a 0.0 (184th Nationally, 6th Big 12) and turnovers per game which came to 13.7 (225th Nationally, 7th Big 12). At times within the conference, they often found themselves in the middle of the pack as they were in field-goal defense, which came in at 40.7% (60th Nationally, 6th Big 12) and scoring defense, which came to 63.5 PPG (29th Nationally, 5th Big 12). True, those numbers were good when compared to all Division I college basketball teams, but within the Big 12, they were merely average. One area where they topped the conference was assists. Texas Tech averaged 15.4 APG (25th Nationally). Their 71.9 PPG ranked 14th Nationally, 3rd conference, while the team's 45.2% field goal success rate was 101st in the nation and second in the Big 12.
Texas Tech Basketball Preview 2020 – 2021 – Players
The Red Raiders saw their two top scores, Jahmi'us Ramsey and Davide Moretti, go pro. Although that may not be the best news for this team, the fact is Texas Tech does return three of its top-six scorers. Plus, the top-15 recruiting class looks strong. Of the vets, junior Kyler Edwards is back to head up the backcourt, and sophomore Terrence Shannon Jr. will stabilize the frontcourt. New players include five-star wing Nimari Burnett, replacing Ramsey, and top-line transfers Joel Ntambwe (UNLV) and Marcos Santos-Silva (VCU). Both of whom will start in front with Shannon. Top-50, four-star guard Micah Peavy is also part of the freshman class. The Red Raiders have a fine mix of veteran transfers, returning players, and freshmen.
Frontcourt
Guard/forward Terrence Shannon looked good as a freshman, and we expect he'll be even better in his second year with the Red Raiders. In his first season, Shannon recorded 9.8 PPG, 4.1 RPG, and 1.0 APG. The 6-6 swing hit 47.0% of his field goals. A solid playmaker, he struggled from downtown converting just 25.7% of his attempts. However, from the foul line, Shannon was golden, hitting 82.9% of his frees.
Transfer Joel Ntambwe, a redshirt sophomore, is a 6-9 forward with an angular frame who can slash and score. He's tough to stop. With UNLV, Ntambwe averaged 11.8 PPG and 5.5 RPG. The other transfer, senior forward Santos-Silva, can score, rebound, and defend. At 6-7, he's not the greatest leaper, but despite that, Santos-Silva averaged 1.3 BPG. Santos-Silva also recorded 1.1 SPG. With VCU, he averaged 12.8 PPG and 8.9 RPG. Might this top-rated defender also turn into a true double-double threat as a senior? Coming in to offer relief are top-30 JUCO recruit Esahia Nyiwe, who is 6-10, and 7-0 freshman center Vladislav Goldin.
Backcourt
Our Texas Tech basketball preview 2020 – 2021 observes that Edwards will be the backcourt veteran on this team. Last season, he averaged 11.4 PPG, 4.0 RPG, and 3.1 APG. It was a breakout sophomore year for the point guard who was third in scoring for Texas Tech and returns as their top scorer. This season, Edwards could reach a whole new level. Freshman Nimari Burnett will likely be across from Edwards. Burnett is known for his excellent ball-handling skills and playmaking ability. He can set up shots or take and hit them. He could certainly become this team's go-to guy in crunch time. Freshmen Peavy and top-100, four-star recruit Chibuzo Agbo Jr. are both likely to get court time. Expect to see Peavy more than Agbo.
Red Raiders – Make or Break for 2020-2021
One thing our Texas Tech basketball preview 2020 – 2021 needs to emphasize is that the success of any of Beard's teams is predicated on them playing tight defense. Last season, the Red Raider defense was mediocre. This year there is the opportunity for it to excel. Due to experience, transfers, and a fine freshman class, we do expect this edition of Texas Tech men's basketball to be much stingier when it comes to allowing points. Also, they must improve when it comes to rebounding and ball handling. The probability that the Red Raiders will do both is high. They have a lot of talent as well as experience in both the back and front. Plus, there is a good combination of players who can score and those who can defend. The guys in the paint can do both. Finally, in 2019- 2020, ball movement on this team was excellent. It could be even better this season.
Texas Tech Basketball Preview 2020 – 2021- Final Word
Our Texas Tech basketball preview 2020 – 2021 sees this club as being very competitive. This is a deep team that is athletic, skilled, and diverse. Coach Beard's starting five offer strong offensive and defensive skills. The combination of transfers, freshmen, and returning players offers Texas Tech the opportunity to battle and beat the likes of Baylor and Kansas. How far will this team go? Can they take the Big 12 title and go deep into the NCAA Tournament? They certainly have a solid shot at both, especially with the Jayhawks weakened and Baylor showing some signs of wear. We do think the Red Raiders have a chance of winning the Big 12 in 2020 – 2021.
Texas Tech Red Raiders – 2020-2021 NCAA Projection
Big 12 Finish – Second
NCAA Tournament Result – Sweet 16