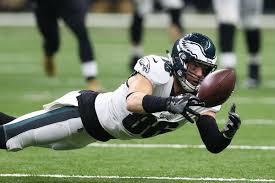 Our NFC Philadelphia Eagles Preview 2019 projects the Eagles to be very competitive. This Philadelphia Eagles Preview 2019 observes that during the past two NFL seasons this team has been a contender. In 2017, the Eagles took down the Super Bowl after going 13-3, and last season these Eagles made the playoffs, beating Chicago 16-15 in round one and losing 14-20 to New Orleans in the second round. Head coach Doug Pederson (33-20 Overall, 4-1 Postseason) starts his fourth season at the helm. Pederson, an aggressive play-caller, has done well bringing along this team when the chips have been down. However, despite his best efforts, one thing that hurt Philadelphia last season was injuries. If this team can stay healthy, Pederson, and his veteran staff, will certainly give the Cowboys a run for their money.
Philadelphia Eagles Preview 2019 – Team
Our Philadelphia Eagles Preview 2019 notes that this team has one of the best offensive lines in the NFL. Plus, when healthy, QB Carson Wentz (401 ATT, 279 COMP, 3074 YDs, 21 TDs, 7 INTs) can certainly lead his team down the field. He is key to their success. The frontline is the best part of the defense, while the linebacking unit is suspect. Overall, on offense, this Eagles squad is much improved with the addition of receiver DeSean Jackson and running back Jordan Howard.
Eagles – Offense
In 2018, the Eagles saw their offensive numbers fall off. They scored 22.9 PPG (18th), but posted 267.2 passing yards per game (7th). Their rush attack, which ranked 28th, earned just 98.1 YPG. In terms of third-down conversions, the Eagles were good on 41% (T-11th). The O-line allowed 40 sacks (T-15th).
Although Wentz's numbers were down last, he was still solid. The Eagles have a fine group of pass catchers that include TE Zach Ertz (116 REC, 1163 YDs, 10.0 AVG, 8 TDS) and WRs Alshon Jeffrey (65 REC, 843 YDs, 13.0 AVG, 6 TDS), and Nelson Agholor (64 REC, 736 YDs, 11.5 AVG, 4 TDs). The addition of Jackson, who last season with Tampa Bay posted 41 receptions and averaged 18.9 YPC while scoring four times, will help open up the field underneath. The ground attack should be aided by the addition of Howard who enters his fourth NFL season after spending three with the Bears. In that time, Howard gained 3,370 yards, averaging 4.3 YPA and scoring a total of 24 TDs. With an O-line where four-of-five starters are Pro Bowlers, we expect the running game to thrive. That is if age and injuries don't take them out.
Philadelphia – Defense
In 2018, the Eagles' defense did a good job versus the run, limiting teams to 96.6 YPG (7th). They also held opponents to 21.8 PPG (12th). However, this team could not stop the pass, as the 269.3 YPG they gave up through the air ranked 30th in the NFL and last in the NFC. Our Philadelphia Eagles Preview 2019 observes that although the defense posted 44 sacks (T-8th), they grabbed just 10 picks (25th) and recorded a turnover differential of -6 (25th).
DE Michael Bennett (9 SCKs) and LB Jordan Hicks (89 TKLs) are both gone. But Chris Long (6.5 SCKs) and Fletcher Cox (10.5 SCKs), one of the finest DTs in the NFL, return to the D-line. For the Eagles last season, LB Nigel Bradham was second in bring downs with 87, while safety Malcolm Jenkins topped the team with 136 tackles. Both return. The linebacking unit is inexperienced and the weakest group on this side of the ball. Corners Rasul Douglas and Avonte Maddox posted three and two picks respectively. The corners are deep. Safety Jenkins and teammate Rodney McCleod are both top-notch.
Special Teams
On special teams, long snapper Rick Lovato has been a real find. He's excelled the last two seasons after taking over for Jon Dorenbos. PK Jake Elliot (33-35 XP, 26-31 FG) is solid and dependable, while punter Cam Johnson had a great year as he set franchise records for gross and net averages. His 48.1 YPP was third in the NFL for gross average, and his net of 42.7 YPP earned fourth place. With Darren Sproles retired, the Eagles will need someone to return punts. That could be the newly arrived DeSean Jackson. There is plenty of potential when it comes to bringing back kicks.
Philadelphia Eagles Preview 2019 – Prediction
This season, the Eagles play New England, Chicago, and Green Bay. Three NFL clubs they did not meet last season. If they can take two of those three, this team will be in a great place. However, our Philadelphia Eagles Preview 2019 notes that this team no longer has Super Bowl MVP Nick Foles as their backup. For the past two seasons when Wentz has gone down, Foles has been this team's savior. Of course, this team's two divisional games against the Cowboys will be huge. Those two games could be the season.
Our Ratings
Quarterbacks – 8.1
Running Backs – 7.4
Receivers – 8.0
Offensive Linemen – 9.1
Defensive Linemen – 8.3
Linebackers – 7.2
Secondary – 7.5
Special Teams – 8.2
Coaching – 8.5
Philadelphia Eagles Preview 2019 – Projection
Philadelphia Eagles Second in NFC East
LINKS