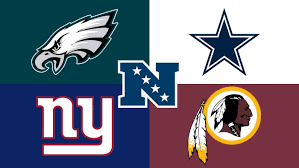 Our NFC East Preview 2019 sees this division as being fraught with issues. This NFC East Preview 2019 notes that even the Dallas Cowboys and Philadelphia Eagles, who possess some of the top players in the league, are questionable. Still, both Dallas and Philadelphia have the potential to win the division. On the other hand, you have to wonder which team will take last in the NFC East, the New York Giants or the Washington Redskins. In 2019, both bring various issues to the field, including the lack of a verified starting quarterback for Washington and thin receiving group for New York.
NFC East Preview 2019 – Teams
It's been 24 years since the Dallas Cowboys won their fifth and last Super Bowl title. The offensive combination of QB Dak Prescott, WR Amari Cooper, and RB Ezekiel Elliot can dominate teams. And although this is a young team, the Cowboys are filled with a lot of talent. The have 13 players on their roster who have made a total of 42 Pro Bowl appearances. On defense, the secondary is questionable and could be this team's undoing.
Will QB Daniel Jones be a game-changer? The first-round draft pick will be groomed to take over for veteran signal caller Eli Manning. Might he take over in 2019? New York's Saquon Barkley is a dual-threat scorer, while tight end Evan Engram and wideouts Golden Tate and Sterling Shepard will try to make up for the loss of Odell Beckham Jr. The biggest issue for this team is its lack of pass rush and overall poor defense. That side of the ball will keep them out of the playoffs.
If Carsen Wentz stays healthy, this team, which is solid on offense, should be competitive. WR Alshon Jeffrey and TE Zach Ertz are solid targets. Wideout DeSean Jackson provides another quality pass catcher. The Eagles try to revitalize their rushing game with the addition of draft pick Mikes Sanders and Chicago's Jordan Howard. The line is the best unit on the defensive side of the ball. The secondary is good, but linebacking unit is thin and weak.
Our NFC East Preview 2019 notes that the Skins have the most questionable offense in the division. The QB may be draft pick Dwayne Haskins, vet Case Keenum or backup Colt McCoy. One thing is certain, head coach Jay Gruden, after five-underachieving seasons, needs to ensure this team makes some sort of progress. Along with the quarterback situation, the receiving unit is especially questionable. The defense is pretty good, especially upfront. Still, they can do just so much.
NFC East Preview 2019 – Prediction
Our NFC East Preview 2019 predictions for the order of finish follow. We do think that it will be a close call for first. After that, we expect there to be some distance between second place the third and fourth place.