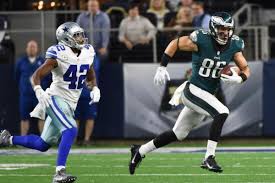 Last season Eagle rookie quarterback Carson Wentz started 16 games and took the team to a decent 7-9 record. Our Philadelphia Eagles 2017 NFL preview looks at the possibility of Philadelphia taking it up a notch and getting into the postseason. Wentz has a year under his belt, they've added the top-rated free-agent receiver, Alshon Jeffery, to their roster, and have strong special teams units. But is that enough in a division that includes contenders like the Cowboys, Giants, and Redskins? The Eagles need to make a few things happen, including better red zone production, increased sacks on the part of the D, and even more creativity from Wentz.
Offense: 8.0
Wentz certainly made mistakes last season. He threw 16 touchdown passes while giving up 14 interceptions as he led the 24th ranked passing offense. Although he was inconsistent, at times he showed that he could be the Eagles' franchise quarterback. A year's worth of experience should go a long way for him in 2017. A huge addition will be wideout Alshon Jeffrey, as long as he can stay healthy. Also, WR Torrey Smith joins the ranks from an undistinguished two seasons with San Francisco. However, four seasons prior with the Ravens, Smith made 30 TD catches. TE Zach Ertz (79 REC, 10.5 AVG, 4 TD) and WR Jordan Matthews (73 REC, 11.0 AVG, 3 TD) return to offer reliability and stability.
The running situation is up in the air. Ryan Matthews was having a good season in 2016 when he suffered a neck injury. It's doubtful he'll be back. That means the Eagles must rely on some skilled but diminutive running backs. The O-line is solid with tackles Jason Peters and Lane Johnson providing stellar service. A big concern is Johnson's two violations of the NFL's PED policy. One more and he's out for two years.
Defense: 7.5
In 2017, the defense was a tad better than average, as they tied for seventh in turnover differential (+7) and ninth on interceptions (16). They allowed 20.7 PPG (12th) and the D was ranked 13th overall. But the Eagles need to put more pressure on QBs. They were 16th in sacks with 34, and the team saw a big drop off in this area in the second-half of the season.
Defensive ends Fletcher Cox (6.5 Sacks) and Brandon Graham (5.5 Sacks) did a fine job last season. Opponents have to double-team Cox constantly and Graham, who had 17 quarterback knockdowns, is one of the NFL's most effective pass rushers. In the linebacking area, Jordan Hicks led the team in picks with five and allowed only one touchdown. In addition, SLB Nigel Bradham (99 Tackles), who joined Philly last season as a free agent, proved to be a real find.
The defensive backs are the weak point on this defense. FS Rodney McLeod (117 Tackles, 3 INT) was the most productive player in the secondary. Various other players dealt with injury issues that slowed them down or took them out of the mix. If Malcolm Jenkins (114 Tackles, 3 INT), who did well at corner until injuries hampered him, can come back healthy that will be a big plus.
Special Teams: 8.5
Darren Sproles, who serves the Eagles as a running back, pass catcher, and return man, earned Pro-Bowl status due to his runback chops. Philadelphia was second in the league in punt returns and 11th in kickoffs. Caleb Sturgis is overall reliable as a placekicker while punter Donnie Jones needs to find some consistency in 2017.
Coaching and Management: 7.5
Doug Pederson (7-9) is back for his second season as Philly's head coach. He did a good job handling a rookie quarterback and showed resilience, as he waded through a string of five losses. He comes to the team with 10 years as a backup QB and tends to connect well with players. The front office made some good deals in the off-season and the Eagles picked up some ready-to-go defensive players in the draft.
Philadelphia Eagles 2017 NFL Preview: Last Word
The Eagles are certainly improved and should have a good season. It's doubtful they'll make the playoffs due to the fact that they are in a very tough division. Our Philadelphia Eagles 2017 NFL preview sees the team finishing even on the season. Then again, if the football bounces one way or another in a game of two, they could pick up a few more wins.
Philadelphia Eagles 2017 NFL Preview Prediction: 4th NFC East; Record: 8-8
GO BACK TO: