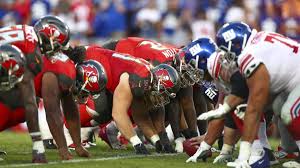 This Tampa Bay vs New York totals pick has the best over at 45.5 (-103), while the best under is 46.0 (-109). Tampa Bay can score points in bunches. Their offense, which is led by Tom Brady, is tough to stop. On the other hand, the Giants are lethargic when it comes to point production. On the other side of the ball, the Bucs bring a sound defense, while the Giants, although not porous, are certainly less intimidating than tonight's opponent. Tongith's Monday Night Football game kicks off at 8:15 pm ET. It will be played on NY's home turf, MetLife Stadium in East Rutherford, NJ.
Tampa Bay vs New York Total Pick – Offenses & Defenses
In their last two games, Tampa has averaged 41.5 PPG. Their season average in point production comes to 31.7. Whether you look at the short or long term, those totals are hefty. This season, the Giants have put just 17.4 PPG on the scoreboard. On defense, the Bucs are holding teams to 20.3 PPG, while NY is allowing 24.9.
In creating our Tampa Bay vs New York totals pick, we note that Brady is capable of piling points up quickly. We do think he'll be able to pick the NY defense apart. Plus, the Buccaneers have a solid rush attack. Look for most points in this game to come from Tampa Bay. They're capable of putting 40 or more on the board. The Giants should be good for seven to 10.
Buccaneers vs Giants – Trends
In terms of trends, Tampa is an over machine. In eight of their last 11 road games, the total has gone over. Also, in 15 of their last 20 games, the over has been exceeded. Finally, in playing NFC clubs, Tampa has reached beyond the over in 12 of 14 games. On the other hand, the Giants have gone under in five of their last seven contests. It's also been under in four of six games against NFC opponents. Still, there is good news for those who like the over. In seven of 10 games against an NFC South team, the total has been over. The over has also been reached in five of five games where the Giants played the Buccaneers.
Tampa Bay vs New York Totals Pick – Final Word
Here's what out Tampa Bay vs New York totals pick looks like. The Bucs bring an immensely productive offense to the field. They should score a lot of points. The Giants should be able to add enough to go beyond the 45.5 mark. Another aspect that indicates this game will go over, is the propensity for going over shared by both teams. Go with the over at 45.5 (-103). Also, checkout our latest Tampa Bay vs NY Giants spread pick.
Tampa Bay Bengals vs New York Giants Over/Under Summary
Totals – Over at 45.5 (-103)