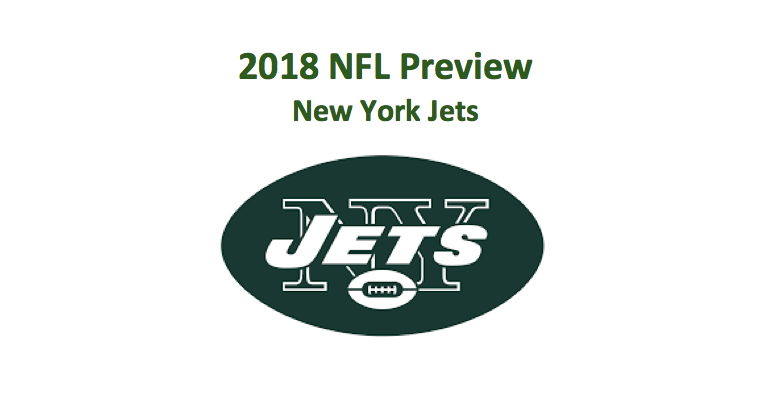 The last two seasons, the AFC East New York Jets (5-11) have earned a total of just 10 wins. They have failed to reach single-season, double-digit wins in four of the past five years. Last season, both the Jet offense and defense were deficient. The offense needs to find one thing very quickly. That's a franchise QB. Our 2018 New York Jets NFL betting preview wonders if first-round pick Sam Darnold of USC can be the solution this team has been looking for?
Offense
In 2017, the best ranking for this offense was 19th. That was in rushing yards, as they averaged 106.4 YPG. Passing yards totaled 198.9 PG (24th NFL) and total offensive yards came in at 305.2 PG (28th NFL). The NY Jets scored 18.6 PPG (24th NFL) and converted 36% (T-22nd NFL) of their third down attempts.
Quarterbacks and Running Backs
So, who will be the starting QB for the Jets? Josh McCown is the guy with experience, but Sam Darnold looks to be the new golden boy. Darnold may continue a recent NFL trend and start for the Jets. He's got a great arm, football smarts, and is athletic.
The rush attack will feature Bial Powell (178 ATT, 772 YDs, 4.3 YPA, 5 TDs) and former Brown Isaiah Crowell. As Cleveland's running back, Crowell scored 22 TDs over four years. Our 2018 New York Jets NFL betting preview finds that both of these guys are powerful ground gainers.
Receivers and Tight Ends
WR Robby Anderson (63 REC, 941 YDs, 14.9 YPC, 7 TDs) had a great second year in the NFL last season. He finished 21st in the league in receiving yards and proved to be a solid TD threat. In 2017, Jermaine Kearse (65 REC, 810 YDs, 12.5 YPC, 5 TDs), who's in his seventh NFL season, enjoyed one of his best years. There is depth in these ranks. This unit could be very dangerous.
Offensive Line
The O-line gave up 47 sacks last season. That tied them for seventh-most in the league. Plus, their inability to perform properly hurt the running game greatly. This group should be improved as they add center Spencer Long from the Redskins and see right guard Brian Winters return healthy after abdominal surgery. Our 2018 New York Jets NFL betting preview concludes that a few other guys need to step up for this unit to be good enough and stable enough to perform their blocking duties properly.
Defense
The defense certainly had its problems last season, as they allowed a total of 352.2 YPG (25th NFL) and 23.9 PPG (T-23rd NFL). They recorded 20 sacks (28th NFL) and 11 picks (T-20th NFL). The NY turnover differential was at -4 (T-23rd NFL).
Defensive Line
End Muhammad Wilkerson (3.5 SCKs) is gone and that leaves a hole. There are a few guys up for his job. At the other end spot, Leonard Williams is a formidable force. NT Steve McLendon, who is 32, is still exceptionally solid.
Linebackers
Our 2018 New York Jets NFL betting preview finds that the LB unit needs depth. ILB Avery Williamson, who's new to the team, proved to be resilient and durable in the past four seasons with Tennessee. Also on the inside, Darron Lee (123 TKLs) returns after a breakthrough season. This year, OLB Josh Martin looks to step up his game, while OLB Jordan Jenkins could become a massive outside edge rusher.
Secondary
Safeties Marcus Maye and Jamal Adams can bring it. They each scooped two picks last season. More is expected of them in 2018. CB Trumaine Johnson, who was a major talent with the Rams, joins the Jets, while CB Morris Claiborne, who had eight pass deflections last season, is a solid talent.
Special Teams
Placekicking has been an issue for this team. They now welcome their third PK in as many years. Cairo Santos comes to the team after two solid seasons with the Chiefs from 2015-16. He did not play last year due to a groin injury. Punter Lachlan Edwards has been exceptionally productive. Last season, he set new team records for net yards and gross yards. Thomas Hennessy starts his second year in the NFL as long snapper. He came over in a trade with the Colts. Veteran WR Andrew Roberts, who is an exciting return man, joins NY after olaying with Atlanta.
Coaching
Head coach Todd Bowles (20-28 Jets and Overall) starts his fourth season at the helm. He's known as a fantastic locker room coach. Players love him. He knows how to get his team focused and emotionally charged. But his in-game decisions have been questioned. Often, he's seen as being too conservative. Additionally, our 2018 New York Jets NFL betting preview finds that he needs to become more adept at clock management.
2018 New York Jets NFL Betting Preview: Final Word
It will be interesting to see if Darnold will have an effect on this team immediately. First, he'll need to win the starting QB job. If that happens, you never know. If anything, if he does play, there will certainly be a lot of excitement around this team. Our 2018 New York Jets NFL betting preview envisions this as being a transitional season for NY. We don't think they'll make the playoffs, but we do think they will win more games than they have over the past few seasons.
2018 New York Jets NFL Betting Preview Projection: 7-9 Record, 3rd AFC East
Unit Ratings
Offense:
QB: 7.9, RB: 7.2, OL: 7.0, WR: 7.8, TE: 6.7
Defense
DL: 6.8, LB: 6.5, DB: 8.0
Special Teams
PK: 6.8, PT: 8.2, RT: 7.5
Other
Coaching: 7.9
Intangibles: Ah, youth! This young team could surprise a lot of pundits if they notch a few early wins and develop a swagger.
Overall Rating = 7.6
Links