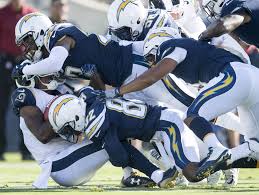 You're at the home page for our 2018 AFC West preview, featuring the Denver Broncos, Kansas City Chiefs, Oakland Raiders, and Los Angeles Chargers. This page is designed to link you to each team's preview and to also provide you a quick synopsis of each team's strengths and weaknesses. Plus, you'll find our projected order of finish as well as links back to our AFC and NFL hubs. Visit Betting Brain regularly for updates, great free picks and more.
AFC West- 2017 Season
Last season, it was the Kansas City Chiefs (10-6) with Alex Smith at the helm taking first in the AFC West. The Chiefs had the best passing offense in the league, but their D was deficient. The Los Angeles Chargers (9-7), who offered a balance of offense and defense, finished strong enough to end up in second place. But they did not make the postseason. After that, it was the Oakland Raiders (6-10) limping into third. The stragglers in this scenario were the Denver Broncos (5-11). In 2017, both the Raiders and Broncos had a tough time on both sides of the ball.
2018 AFC West Preview: Teams
Check out each AFC West team below, as we provide you with important bullet points to consider. This shorthand will give you a quick but accurate assessment of each team. As the season develops, make sure you use the most recent data and information available before making any NFL wager. You can always utilize the information in our previews as foundation elements when handicapping.
QB Case Keenum may be the key
Receiving group strong, includes Demaryius Thomas
O-line, which was huge problem last year, improved
Rush attack questionable
Defense is still strong
Top-notch LBs
Second-year coach Joseph looks to do better than 5-11
QB Mahomes becomes the starter as Mr. Smith goes to Washington
WR Tyreek Hill leads a very deep group
RB Kareem Hunt back after +1,000 YD rookie season
Good O-line but not great
Can D cut down on yardage allowed?
LB unit best on D side of ball
Veteran coach Andy Reid always has something up his sleeve
QB Phillip Rivers ably runs well stocked offense
O-line one of best in NFL
RBs and WRs both deep
Will D stop opponent ground attacks this season?
Pass defense is intimidating
Has placekicking dilemma been solved?
Coach Anthony Lynn starts second season with a strong team
QB Derek Carr needs to have a rebound season
RB Marshawn Lynch can still bring it
WR Crabtree gone, Nelson in
Offensive line is sound
Deep backs best part of questionable D
LB unit will be tested
He's back- John Gruden
Projected Order of Finish
Our 2018 AFC West Preview sees the following order of finish:
Final Thoughts- 2018 AFC West Preview
As the season makes its way through the first month, our 2018 AFC West Preview will prove to be helpful. At the same time, as the season progresses, be sure to reference it, as well as other pages at other sites, to get a balanced view of each club. Our analysis is focused on making sure that avid sports bettors can access the data and information they need. Also, as the season progresses, make sure that you check in with Betting Brain daily to read up on professional football news, get free picks, and use our various features. We have all of the information that NFL bettors want and need.
Other Links