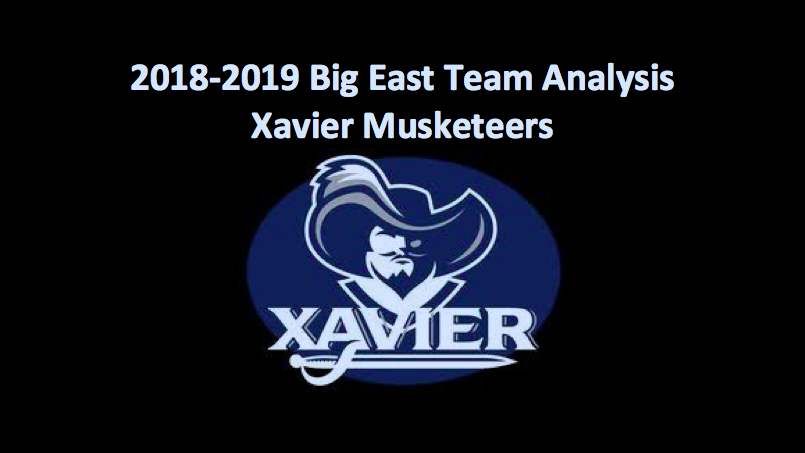 The Xavier Musketeers (29-6 Overall, 15-3 Big East) will once again out a very competitive team on the court. Last season, they finished on top of the Big East. However, that finish did not transform into tournament success, as Florida State took down Marquette in the second round 75-70. Although the Musketeers will put a good team on the court, don't expect them to be as dynamic as they were last season. This club has lost a lot of its top point producers. At the same time, at the end of the season, long-time coach Chris Mack left for Louisville. Mack's assistant Travis Steele takes over. Here how our 2018-19 Xavier Musketeers basketball preview sees this team in terms of strengths and weaknesses.
Frontcourt
Replacing three in the front won't be easy for Steele. Sophomore forward Naji Marshall (7.7 PPG, 4.4 RPG, 53.0 FG%), a tough and resilient inside player, will be asked to do more as a scorer and point producer. Junior Tyrique Jones (7.0 PPG, 4.5 RPG, 62.7 FG%) is considered to possess double-double potential. Two transfers, Zach Hankins from Ferris State and Ryan Welage from San Jose State, were very productive for their former teams. Can they bring their point-production and rebounding chops to the Musketeers?
Backcourt
Point guard Quentin Goodin (8.7 PPG, 4.9 APG, 44.5 FG%) is this team's only returning starter from last season. If he can become a double-digit scorer and one of the top assists-men in the Big East, then Xavier will win some important games. Sophomore Paul Scruggs (4.9 PPG, 2.0 RPG, 45.5 FG%) offers versatility. He can play various positions and is tough, but Scruggs is also inconsistent. Kyle Castlin, a grad transfer from Columbia, was good for 10.5 PPG last season despite being hampered by injuries.
2018-19 Xavier Musketeers Basketball Preview – Final Word
Our 2018-19 Xavier Musketeers basketball preview finds that there are a lot of questions marks regarding this team. Coaching could be a concern, as is depth and scoring. It is true that the Musketeers have a tradition of bringing new coaches up from within the organization. Overall, that process has been successful. In terms of player performance, if certain players develop and progress, then this team will once again be NCAA Tournament-bound. If not, then it's the NIT.
Big East News and Updates