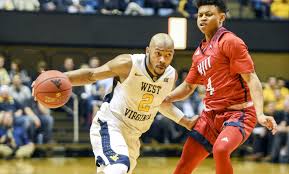 The West Virginia Mountaineers (26-11 Overall, 11-7 Big 12) have made the NCAA Sweet 16 three of the past four seasons. In each of those four seasons, they have won 25 or more games. That is something only nine college basketball teams have ever done. However, for the first time in four seasons, the Mountaineers will be without the dynamic backcourt duo of Javon Carter and Daxter Miles. Will that affect this team's ability to post up wins? Our offers an answer to this question.
Frontcourt
Junior big man Sagaba Konate (10.8 PPG, 7.6 RPG, 51.0 FG%) is a massive force at both ends of the court. Along with being a fine shooter and top rebounder, Konate is a premium shot blocker. Last season, he swatted away 116 shots. Junior forward Lamont West (9.4 PPG, 3.8 RPG, 41.1 FG%) and senior forward Esa Ahmad (10.2 PPG, 5.5 RPG, 45.5 FG%) are both looking at potential breakout seasons. There are some very fine players, including four-star freshman Derek Culver, who can come off the bench to offer premium minutes.
Backcourt
Junior guard James Bolden (8.7 PPG, 42.9 FG%, 41.1 3PT%) offers this team some fine scoring chops. His three-point shot, which he took 168 times last season, is very accurate. Red-shirted freshman point guard Brandon Knapper could start. First, he needs to be cleared medically due to a heart condition. True freshman Jordan McCabe is a top-notch ball handler, while Jermaine Haley, another frosh, brings impressive three-point skills to this team.
2018-19 West Virginia Mountaineers Basketball Preview – Final Word
Coach Bob Huggins has a tough schedule, a player on the mend, and some major question marks. The Mountaineer backcourt is young, which will be a challenge. But this team also has a lot of talent and depth and Huggins is an exceptional coach who works wonders with the guys he recruits. This 2018-19 West Virginia Mountaineers basketball preview projects that this team will be highly competitive. We see them finishing in the top third of the Big 12 and, once again, making it to the Sweet 16. The Elite Eight will be within their reach. Let's see what they can do.
Big 12 News and Updates