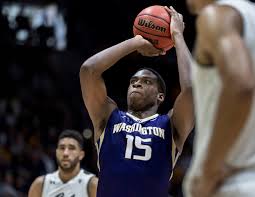 In the last five seasons, the Washington Huskies (21-13 Overall, 10-8 Pac-12) have been to the NIT twice and the NCAA Tournament zero times. Last year, the team was seventh in the conference and made it into the second round of the NIT. St. Mary's knocked them out 85-81. Our 2018-19 Washington Huskies basketball preview likes what it sees. Coach Mike Hopkins returns for his second season after turning this team around in one year. In fact, he did so well Hopkins was voted Pac-12 Coach of the Year. People are optimistic, and for good reason, in the land of the Huskies.
Frontcourt
A sigh of relief was heard in Huskie-land when senior forward Noah Dickerson (15.5 PPG, 8.4 RPG, 56.9 FG%) decided to remove himself from the NBA Draft and come back for his final season with Washington. It was also big news when four-star recruit Bryan Penn-Johnson, a seven-foot center, committed to the Huskies. Plus, there's plenty more length in front, including two-year starter Sam Timmins (4.3 PPG, 4.6 RPG, 57.7 FG%), who is 6'11" and 265 pounds, and new recruit Nate Roberts, also 6'11", who comes in at 235 pounds. Timmins is known for his ability to pound the boards. Roberts brings a decent mid-range jumper to the court.
Backcourt
The Washington perimeter game should, once again, be strong. The Pac-12 Defensive Player of the Year, Matisse Thybulle (11.2 PPG, 2.9 RPG, 44.5 FG%), a senior with 99 starts, is the cornerstone of the backcourt. He can make things happen on both ends of the court. Last year, as a freshman, guard Jaylen Nowell (16.0 PPG, 4.0 RPG, 45.1 PPG) led the Huskies in scoring. He's back and ready to go. Plus, David Crisp, now a senior, averaged 11.6 PPG in 2017-18. Interesting to note that the best three-point shooters on this team play in the frontcourt. Not one returning guard cracked 37% from downtown.
2018-19 Washington Huskies Basketball Preview – Final Word
Our 2018-19 Washington Huskies basketball preview finds that the next step for this team is NCAA Tournament appearance. Last year, Hopkins did a fine job of getting fine performances from each member of his team. We expect to see additional improvement this year. This team, which is big and deep, will put a solid offense on the floor. Improved field goal shooting will help. With a solid mix of vets and talented recruits, we expect winning numbers once again from the Huskies.
Pac-12 News and Updates