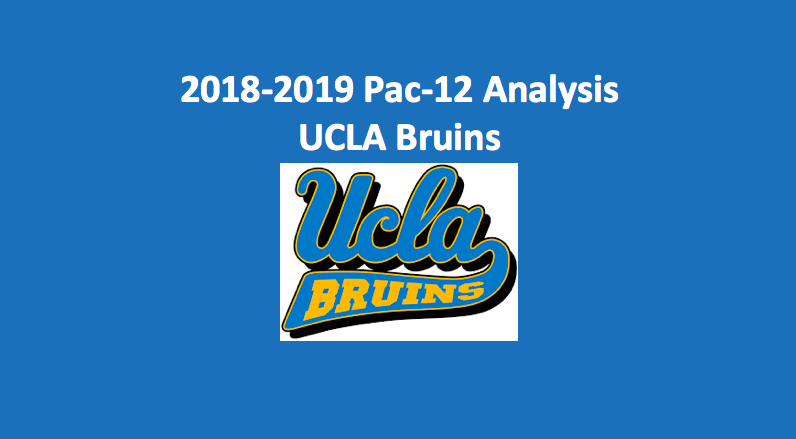 Last season, the UCLA Bruins (19-16 Overall, 11-7 Pac-12) finished in the top third of the Pac-12. They should do the same in 2018-19, winning another ticket to the Big Dance. From 2014 to 2017, this team earned three NCAA berths and each time they got to the Sweet 16. Last season, they were in the tourney again, but the Bruins were knocked out in the First 4, as St. Bonaventure took them down 65-58. Our 2018-19 UCLA Bruins basketball preview projects this team to finish third in the Pac-12 and to, once again, be a part of March Madness.
Frontcourt
There's a whole lot of height on this team and a lot of depth in the paint. Starting with MacDonald's All-American center Moses Brown, who is 7'1", this team has length. Brown should be an instant asset on defense as he learns the finer points of the offensive side of college hoop. Another top recruit joins the team, Shaeef O'Neal. He's the son of NBA legend Shaquille O'Neal and at 6'9" could start at the PF position. Two 6'10" red-shirted freshmen, Cody Riley and Jalen Hill, will vie for minutes. Plus, there are some returning vets ready to come off the bench.
Backcourt
Guard Aaron Holiday (20.3 PPG, 3.7 RPG, 5.8 APG) went in the first round of this year's NBA Draft. That means sophomore Jaylen Hands (9.9 PPG, 4.0 RPG, 2.6 APG) will take over the job of running the offense. Hands is a 40.5% shooter from the field and a 37.4% shooter from beyond the arc. Along with being a solid leader, Holiday has fine defensive chops. Versatile sophomore Kris Wilkes (13.7 PPG, 4.9 RPG, 44.1 FG%), who can play forward or guard, returns as the team's top point-maker. Wilkes needs to improve on his 35.2% three-point shooting. Prince Ali (9.1 PPG, 3.1 RPG, 44.0 FG%) will get the chance to hone his shooting skills.
2018-19 UCLA Bruins Basketball Preview – Final Word
Head coach Steve Alford, who starts his sixth season at the Bruins' helm, will be looking to get the most out of his young team. The good news is UCLA has a lot of talent. Much or it is raw and untested. But if the Bruins can mature quickly, they could become a national contender. Our 2018-19 UCLA Bruins basketball preview certainly sees them as getting to the Big Dance. And unlike last year, we don't envision them being knocked out in the First 4 or even the initial Round of 64. Could a trip to the Final Four be in order? We think that would be stretching it. We believe this Bruins team will be out either after the Round of 32 or the Sweet 16.
Pac-12 News and Updates