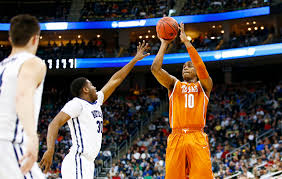 Since 2000, the Texas Longhorns (19-15 Overall, 8-10 Big 12) have missed the Big Dance just once. That was in 2017. They were back again in 2018, as they lost in the first round to Nevada 87-83. That was the third time in their last three NCAA appearances that the Longhorns have exited the tourney early. Over the course of their last 17 NCAA Tournaments, they have made it to the Elite Eight three times and the Final Four once. Our 2018-19 Texas Longhorns basketball preview sees this teams as once again being good enough to earn a NCAA postseason berth. Once again, we believe they will fall short.
Frontcourt
That magnificent presence in the paint, Mo Bamba, is gone. Bamba was a top-notch rebounder and premium shot blocker. Sophomore Jericho Sims (5.0 PPG, 3.9 RPG, 60.7 FG%) proved down the stretch last year that he could step his game up. Over the course of four games when Bamba was injured and out, Sims averaged 12.0 PPG and 9.5 RPG. He'll start. Senior forward Dylan Osetkowski (13.4 PPG, 7.2 RPG, 40.0 FG%) comes into this season in the best shape he's ever been and ready to utilize all of that experience he's gained. Three freshmen and sophomore Royce Hamm add depth to this group.
Backcourt
Senior Kerwin Roach II (12.3 PPG, 3.6 RPG, 43.8 FG%) and sophomore Matt Coleman (10.2 PPG, 4.1 APG, 41.1 FG%) will provide firepower and also ably set up plays and dish off assists. Both are solid at the point. Junior Andrew Jones (13.5 PPG, 52.2 FG%, 46.3 3PT%) returns as the team's top point producer and three-point shooter. It's hoped that sophomore wing Jase Febres can improve on his 30.5 FG%.
2018-19 Texas Longhorns Basketball Preview – Final Word
Over three seasons in Austin, coach Shaka Smart is 50-50. Smart has had two NCAA first-round exits. Fans are getting impatient, and the powers that be at Texas certainly feel the need for this team to get to the next level. But our 2018-19 Texas Longhorns basketball preview does not envision this season being one of breakthroughs. The Texas Longhorns look to be, once again, a middle of the pack basketball team. We project a one and done tournament exit.
Big 12 News and Updates