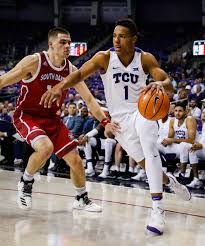 The TCU Horned Frogs (21-12 Overall, 9-9 Big 12) have been on a run. Over the past two seasons, they've been to the NIT (2017) and NCAA Tournament (2018). Last season nationally, they were second in assists (18.6 APG) and ninth in shooting (49.6%). The team was also second in the Big 12 in scoring, as they averaged 82.1 PPG. Our 2018-19 TCU Horned Frogs basketball preview sees this team as making it back to the Big Dance for a second straight year.
That will happen despite the fact that they've lost some of their biggest contributors from last season. There's still talent, skill, and drive on this team. Look for some of the younger players to step up and become the difference-makers on this team.
Frontcourt
Sophomore Kouat Noi (10.2 PPG, 3.9 RPG, 49.6 FG%) hit 43.4% of his threes in his freshman season. He came off the bench last season, providing the team with an offensive spark. He'll start this season. Who will be the other front man? It may be senior J.D. Miller (7.9 PPG, 3.8 RPG, 47.2 FG%) or freshman Kaden Archie, who comes in ready to play. A red-shirted freshman, Kevin Samuel, and a true freshman, Russell Barlow, will most likely battle for the starting center spot. Both provide a commanding physical presence in the paint.
Backcourt
The backcourt includes two notable point scorers. Juniors Jaylen Fisher (12.3 PPG, 5.4 APG, 50.3 FG%) and Desmond Bane (12.5 PPG, 4.1 RPG, 53.9 FG%) are both solid from downtown, as the former hit 43.9% of his threes and the latter 46.1%. Fisher is an able playmaker and assist-man, while Bane can score from outside or drive in to make a basket. Senior Shawn Olden is reliable off the bench.
2018-19 TCU Horned Frogs Basketball Preview – Final Word
Coach Jamie Dixon came onboard in 2016 and made positive things happen. Now he's faced with the challenge of bringing together a team comprised of some vets, red-shirted players, and new recruits. Our 2018-19 TCU Horned Frogs basketball preview sees this Horned Frog basketball team as having a lot of potential. If they can stay in the game as they did so much of last season, TCU will have a productive year.
Big 12 News and Updates