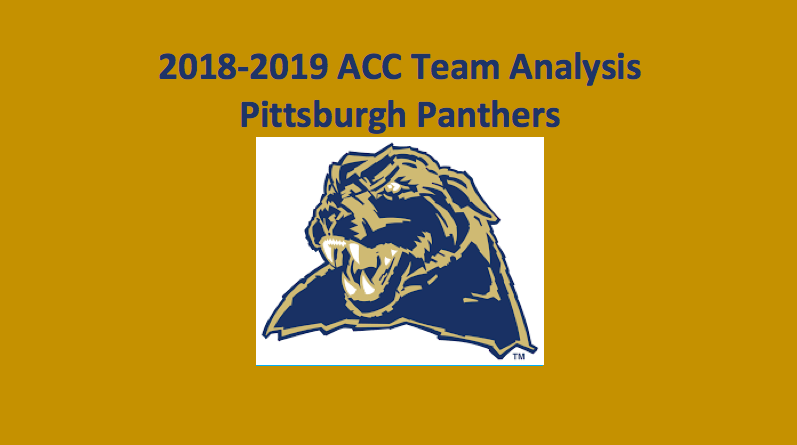 The Pittsburgh Panthers (8-24 Overall, 0-18 ACC) have lost 20 consecutive ACC games. The past two seasons they have been off the tournament landscape. Our 2018-19 Pittsburgh Panthers basketball preview sees this as being the case once again. In recent history, coach Kevin Stallings was brought in to create a winning team. But he lasted just two years.
This season, the Panthers welcome Jeff Capel as their new head coach. The questions are can Capel do what needs to be done to develop a winner at Pittsburgh, and, if he can, how long will it take? One thing is certain, he won't do it overnight.
Frontcourt
The biggest challenge upfront is at center, as junior Kene Chukwuka (2.5 PPG, 2.7 RPG, 35.5 FG%) continues to be a work in progress. Sophomore Terrell Brown (4.4 PPG, 3.4 RPG, 41.8 FG%), who is 6-10, has shown some promise. He'll compete with Chukwuka to start. Also in the front is senior swing Jared Wilson-Frame (13.0 PPG, 3.5 RPG, 37.5 FG%) and sophomore forward Shamiel Stevenson (8.5 PPG, 4.4 RPG, 50.5 FG%). Wilson-Frame is a solid defender under the basket and a threat from the outside. He led the Panthers in scoring and three pointers last season. Stevenson was second in scoring and tops in rebounding.
Backcourt
The guard spots should benefit from Capel's recruiting endeavors. Four–star freshmen Trey McGowens and Au'Diese Toney will join the team. Plus, combo guard Xavier Johnson, who had committed to Nebraska, was convinced to come to Pittsburgh. Johnson was Player of the Year in the prestigious Washington Catholic Athletic Conference. Also on-hand is junior transfer Malik Ellison. Ellison, who played for St. John's, averaged 7.4 PPG, 2.5 APG, and 3.3 RPG. There is plenty of talent and potential but little experience in this group.
2018-19 Pittsburgh Panthers Basketball Preview – Final Word
In many ways, this Pittsburgh team shows a lot of potential. But realizing that potential fully could take a year. Our 2018-19 Pittsburgh Panthers basketball preview finds that this group will most likely be inconsistent as they attempt to develop as a team. Pitt is in a very tough conference. They are most likely a last-place team looking to move up next season.
ACC News and Updates