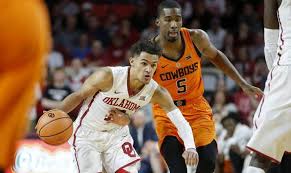 Over the past five seasons, the Oklahoma State Cowboys (21-15 Overall, 8-10 Big 12) have been to the Big Dance three times, the NIT once, and missed both in 2016. Our 2018-19 Oklahoma State Cowboys basketball preview sees this team struggling. Second-year coach Mike Boynton is focused on getting this program back on track, creating higher expectations, and becoming a consistent participant in the NCAA Tournament. But that will take some time, as the Cowboys are rebuilding. This season there may be as many as eight players making their Oklahoma State debut.
Frontcourt
The Cowboys will look to junior forward Cameron McGriff (8.4 PPG, 5.4 RPG, 48.0 FG%) to step up and anchor the front. As a sophomore, he started 17 of 36 games for Oklahoma State. About halfway through last season, McGriff started to come into his own, as he started to take command of the paint physically and step up in big games. As far as experience goes, there's really no one else with the skills, talent, and experience to get the job done. Four true freshmen will get the chance to make a difference. All have an upside in terms of their skills and talent, but all also must develop physically to be able to handle the inside grind that defines Big 12 play.
Backcourt
Guard Michael Weathers, a sophomore who transferred from Miami (OH), had to sit out all last season. In his freshman year at Miami, he led the team in scoring, assists, steals, and blocked shots. He was also third on the team in taking down rebounds. Although he did not play last season, Weathers worked hard in practice, challenged his teammates, and built a rapport with the coaches and team. Much is expected of him this season. Junior guard Lindy Waters III (8.7 PPG. 3.7 RPG, 2.0 APG) is this club's most experienced starter. Coach Boynton likes to go to him in the clutch. Also on-hand is senior USC Upstate transfer Mike Cunningham. Cunningham is a polished ball-handler with an accurate perimeter shot.
2018-19 Oklahoma State Cowboys Basketball Preview – Final Word
In his first season as a college football coach, Boynton did a good job. Although the Cowboys had an up and down season, they persevered, almost making it to the Big Dance. Instead, they earned a NIT berth and went into the third round where they lost to Kentucky 92-84. Our 2018-19 Oklahoma State Cowboys basketball preview acknowledges that this is a major rebuilding year for the program. Depending on how some transfers and new recruits perform, this club could surprise everyone. However, most likely, they will finish at the bottom of the heap, looking forward to next season.
Big 12 News and Updates