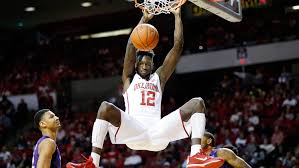 We have to wonder where will the Oklahoma Sooners (18-14 Overall, 8-10 Big 12) will be at the end of this season. With Trae Young leading them last year, they looked invincible at the start. Then, as the team became the Trae Young Show, the Sooner's season fell apart. Oklahoma lost 12 of its last 16 games, which included their 83-78 loss to Rhode Island in round one of the NCAA. Young went to the NBA as the number five pick and two key players, guards Jordan Shepherd and Kameron McGusty, transferred to other schools. With all of that in mind, our 2018-19 Oklahoma Sooners basketball preview observes that this is a program that needs retooling. That will take some time to do.
Frontcourt
Senior center Jamuni McNeace (6.8 PPG, 5.4 RPG, 67.1 FG%) has shown sparks of promise and holds great potential. Can those sparks ignite a remarkable season and does that potential include consistent play? He's a fine shot blocker and rebounder. Sophomore forward Brady Manek (10.2 PPG, 5.2 RPG, 46.6 FG%) put up fine numbers as he averaged 23.7 MPG. Along with tenacious play inside, Manek provided needed points from the perimeter. There are major question marks concerning various returning and new players. Someone else needs to step up, and it may be junior college transfer Kur Kuath who averaged 3.3 BPG last season.
Backcourt
Christian James (11.9 PPG, 4.4 RPG, 45.8 FG%) came out of his sophomore slump and had a fine junior season last year. With Young gone, the Sooners will expect even more from James. Also at guard, senior Rashard Odomes (7.2 PPG, 3.5 RPG, 50.6 FG%) offers an on-target shot. Last season, he was good on 44% pf his threes. Two graduate transfers, Aaron Calixte from Maine and Miles Reynolds from Pacific, add depth to this group.
2018-19 Oklahoma Sooners Basketball Preview – Final Word
Coach Lon Kruger has an exemplary resume. His overall record as a college basketball coach is 619-395. He's taken four college programs to the Sweet and two of those to the Final Four. But our 2018-19 Oklahoma Sooners basketball preview sees that it will take some time for this team to recover from last season. Look for this to be a rebuilding year. The Sooners have been to the NCAA Tournament 26 times in the last 35 years. We expect after the 2018-19 season it will be 26 times after 36 years.
Big 12 News and Updates