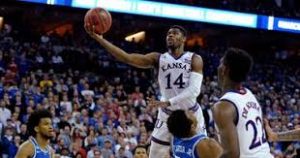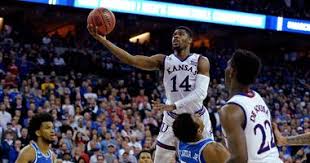 Last season, as they had the 13 previous seasons, the Kansas Jayhawks (31-8 Overall, 13-5 Big 12) took the conference crown. In creating this 2018-19 Kansas Jayhawks basketball preview, we found that they will likely take the Big 12 again. Last season, Kansas made it to the Final Four where they were eliminated by Villanova 95-79.
The two previous NCAA Tournaments, the Jayhawks made it to the Elite Eight. This is a team that is deep in the paint for a change, and that should dominate the conference. The Jayhawks have a lot going for them. To find out how much, read on.
Frontcourt
For a change, the Jayhawks are loaded in the front. Seven-foot center Udoke Azubuike (13.0 PPG, 7.0 RPG, 77.0 FG%), a junior, returns to anchor the paint. Joining him will be Dedric Lawson, a Memphis transfer. As a sophomore with the Tigers in 2016-17, Lawson averaged 19.2 PPG and 9.9 RPG. Sophomore forward Silvio De Sousa (4.0 PPG, 3.7 RPG, 68.1 FG%) developed nicely down the stretch last season. He'll see extra minutes this year. Also, ready to go will be freshman David McCormack, a MacDonald's All-American.
Backcourt
There's a lot of talent in the guard spots. Point will be manned by either highly-ranked freshman Devon Dotson or McDonald's All-American Quentin Grimes, another frosh. Cal State transfer Charlie Moore, who sat out last season, will play. Moore averaged 12.2 PPG and 3.5 assists as a freshman with the Golden Bears. Senior Lagerald Vick (12.1 PPG, 4.8 RPG, 48.8 FG%) made a last-minute decision to return to the Jayhawks rather than go pro. Last season, he sank 37.3% of his threes. Plus, there's more depth off the bench.
2018-19 Kansas Jayhawks Basketball Preview – Final Word
Bill Self may be coaching the next National Champions. There's a long way to go, but we expect the path to the Big 12 Championship to be relatively easy for this team. This Jayhawks club is deeper, more talented, and bigger than they have been in years. This 2018-19 Kansas Jayhawks basketball preview finds that this team will not just be major force on the conference, but also in the country.
Big 12 News and Updates