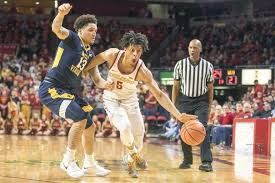 Remember that Iowa State Cyclones (13-18 Overall, 4-14 Big 12) team from last season? The one that posted a losing record, finished last in the conference, and did not make an appearance at the Big Dance? You may want to forget about those Iowa State Cyclones. Why? They were an anomaly. For six seasons prior, Iowa State had made it to the NCAA Tournament and, on the way, had notched three Big 12 tournament titles. After what can be described as an unusually disappointing season, our 2018-19 Iowa State Cyclones basketball preview finds that this team is back. But by how much they are back is a major question.
Frontcourt
Cameron Lard (12/6 PPG, 8.1 RPG, 60.1 FG%), who last season as a freshman had double-doubles in seven of 18 Big 12 games, is back. The 6' 9" forward was a welcome surprise. The output Lard achieved in his frosh season had not been anticipated. Junior Solomon Young (7.2 PPG, 5.9 RPG, 48.6 FG%) will also get the nod upfront. Nebraska transfer Michael Jacobson, a junior, joins the team this season. Last year, his sophomore, he averaged 24 MPG and 6.0 PPG for the Cornhuskers. Freshman George Conditt, who is 6-foot-10, has received a lot of praise for his summer play. Four-star frosh Zion Griffin could make an impact immediately at small forward.
Backcourt
After considering the NBA, sophomore guard Lindell Wigginton (16.7 PPG, 3.7 RPG, 48.6 FG%) decided to return for at least one more college season. It's thought that he can develop into an outstanding point guard. Senior guard Nick Weiler-Babb (11.3 PPG, 7.0 RPG, 6.8 APG) was having a fantastic season until he missed the final nine games with a leg injury. He's a dynamic scorer and assist-man. Virginia transfer Marial Shayok, who averaged 8.9 PPG in 2016-17 for the Cavaliers, should benefit from Iowa State's up-tempo style.
2018-19 Iowa State Cyclones Basketball Preview – Final Word
Expect the Cyclones to be a team that will have to develop its chemistry. It's true that there are some solid and talented returning players, but coach Steve Prohm also has some promising new players. Those players will not only need to be worked into the system, but also, they will have to accept the specific roles their coach designates for them. In the end, when March rolls around the corner, our 2018-19 Iowa State Cyclones basketball preview projects that this basketball team will be running smoothly on all cylinders. There's depth and talent galore here.
Big 12 News and Updates