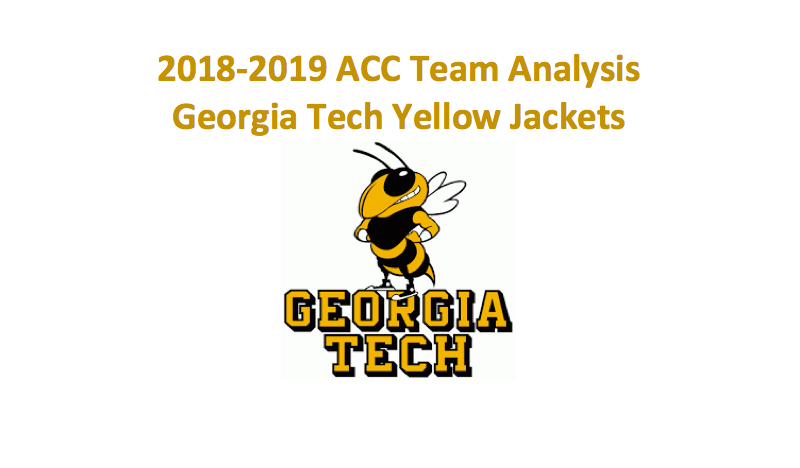 Our 2018-19 Georgia Tech Yellow Jackets basketball preview observes that this team last posted winning numbers in 2003-2004 when they were 9-7 and made it to the NCAA Final Four. The best thing the Yellow Jackets (13-9 Overall, 6-12 ACC) had going for them last season was their scoring defense, which was ranked fourth in the ACC, allowing 67.4 PPG.
Head coach Josh Pastner starts his third season with Georgia Tech. Although he has attempted to focus on building a team that includes lots of experienced players, he has not been able to succeed in doing so. Of his trio of seasons, this is the youngest Yellow Jackets team yet.
Frontcourt
The team's primary big man, center Ben Lammers, is gone. As is wing Josh Okogie, who left for the NBA after his sophomore season. That means Abdoulaye Gueye (5.9 PPG, 4.4 RPG, 46.7 FG%) will have to take on the center spot. Along with pounding the paint, he'll be the man setting up plays inside and out. Scrappy sophomore Evan Cole (3.2 PPG, 2.6 RPG, 46.0 FG%), who could be a major offensive force as well as a high-energy rebounder, will also be asked to do more. Sophomore Moses Wright (3.6 PPG, 3.4 RPG, 38.7 FG%) will also be given a chance to play additional quality minutes.
Backcourt
At six-foot-even, point guard Jose Alvarado (12.1 PPG, 3.7 RPG, 3.1 APG), a sophomore, may be undersized, but he plays big. Last season, he was good on 44.8% of his shots. He averaged 35.0 MPG in his initial season. He'll be taking threes (37 3PT%) while being expected to become a major leader on the court. Who joins Alvarado is up in the air. Contenders include junior transfer Shembari Phillips, sophomore Curtis Haywood II, and freshman four-star recruit Michael Devoe.
2018-19 Georgia Tech Yellow Jackets Basketball Preview – Final Word
In the past five seasons, this team has been to the NIT twice. Last year, they sat out the postseason. Our 2018-19 Georgia Tech Yellow Jackets basketball preview projects that they will do the same this year. This club can enhance their chances of winning by slowing down the game, playing solid defense, which they are capable of, and taking time to set up shots. That certainly worked in Pastner's first season. That will, of course, take discipline.
ACC News and Updates