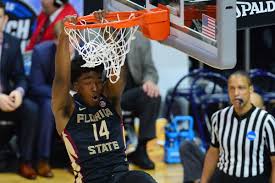 The Florida State Seminoles (23-12 Overall, 9-9 ACC) were an Elite Eight team last season. The year prior, they were gone in round two and the three years before they were either in the NIT or shutout of postseason play. In creating this 2018-19 Florida State Seminoles preview, we found that's there are plenty reasons to be optimistic about this team. The come to this season with seven returning players who logged a lot of minutes in 2017-18. There is depth in terms of experience and some very fine new talent. The 2018 Noles could, once again, go deep in the NCAA Tournament. Here's what we see to be their strengths and weaknesses.
Frontcourt
Senior forward Phil Cofer (12.8 PPG, 5.1 RPG, 48.6 FG%), who has been granted a fifth year of eligibility, starts this season injury-free. The team's leading scorer last year, he's expected to contribute even more this season. Senior center Christ Koumadje (6.5 PPG, 4.1 RPG, 62.6 FG%), and sophomore forward Mfiondu Kabengele (7.2 PPG, 4.6 RPG, 49.1 FG%) return as the Seminole's top post presence. As a frosh, Kabengele averaged just 14.8 MPG, while putting in 7.2 PPG. He's expected to see expanded playing time. Many believe he will multiply the number of points per game he scores. Koumadje, also a decent scorer, is tough on D.
Backcourt
Although not a strong three-point shooter, senior guard Terance Mann (12.6 PPG, 5.4 RPG, 56.8 FG%) is amazingly accurate from the floor. He is a true team player who is dedicated to doing what is needed for the Seminoles to win. Along with being a good shooter, guard Trent Forrest (7.9 PPG, 3.9 APG, 49.2 FG%) is a solid assist man. Grad transfer David Nichols bring a reputation for double-digit scoring.
2018-19 Florida State Seminoles Preview – Final Word
Head coach Leonard Hamilton has guided this team through numerous ups and downs. Our 2018-19 Florida State Seminoles preview sees him as taking them on an upward course. It's true that the Noles are deep, but at the same time this club will have to deliver quality minutes consistently. That was something that they were unable to do last season. Still, a Sweet 16 appearance is not out of the question.
ACC News and Updates