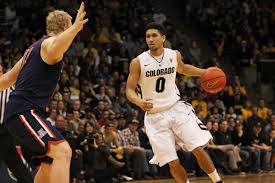 The 2017-18 season saw the Colorado Buffaloes (17-15 Overall, 8-10 Pac-12) miss both the NCAA Tournament and the NIT. This year, we do expect them to be more competitive. Head coach Ted Boyle sees six freshmen come back, and with their return, they bring much needed experience. Although they saw guard George King enter the NBA Draft, there's some fine talent ready to play. Our 2018-19 Colorado Buffaloes basketball preview finds that this team will probably not get a ticket to the Big Dance, but they should be NIT ready. There is certainly plenty of room for improvement over last season and this team is capable of making some strides towards becoming a winner. .
Frontcourt
Sophomore center Dallas Walton (5.7 PPG, 3.4 RPG, 46.1 FG%), who stands seven-feet tall, is a 38.5% three-point shooter. Although he's seen as possessing massive potential, Walton needs to work on his rebounding. Junior forward Lucas Siewert (6.8 PPG, 3.0 APG, 48.5 FG%) has a deadly three-point shot. Last season, he connected on 44.8% of his attempts. Freshman forward Evan Battey is a 6'8" power forward weighing 283 pounds. Look for him to use his imposing frame to dominate the paint. Battey, who suffered a stroke last year, appears to have recovered and is ready to compete.
Backcourt
In his freshman season last year, guard McKinley Wright IV (14.7 PPG, 5.5 APG, 45.1 FG%) led Colorado in points, assists, and steals. He has the potential to be one of the top players in the Pac-12. At this point, it's not clear who will take the place of the departed George King. Last year, King averaged 12.9 PPG and 7.8 RPG. Junior college All-American Shane Gatling could be the answer. Gatling, who can play either guard spot, has an impressive three-point shot. Sophomore D'Shawn Schwartz (3.4 PPG, 1.8 RPG, 42.2 FG%) is expected to become an important force on the court. If he improves enough, he could make a major contribution this year.
2018-19 Colorado Buffaloes Basketball Preview – Final Word
With King and his three-point shooting chops gone, the Buffs will need to find some additional point production. That won't be easy. Still, our 2018-19 Colorado Buffaloes basketball preview sees this team as being competitive within the Pac-12. If this team can find consistency, which they had a tough time doing last year, they will be able to get back to the tournament scene. We don't see this team as being NCAA Tournament-ready. But the NIT is certainly an attainable goal.
Pac-12 News and Updates