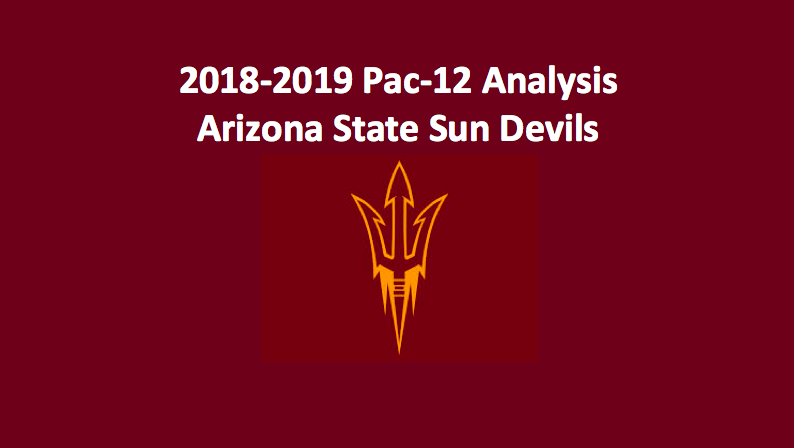 It had been three years since the Arizona State Sun Devils (20-12 Overall, 8-10 Pac-12) had been to the Big Dance. They made it into the First Four where they lost to Syracuse 60-56. The Sun Devils will be without their three top players from last season, but they should still be competitive. Although they will be without guards Shannon Evans, Tra Holder, and Kodi Justice, the team still has some fine talent. Our 2018-19 Arizona State Sun Devils basketball preview anticipates this team making it back to the NCAA Tournament a second straight year. However, once again, we doubt they will go very deep. This is a basketball team that doesn't quite have what it takes to be a top contender.
Frontcourt
The Sun Devils will put senior forward Zylan Chatham, a San Diego State transfer, on the floor. Two seasons ago as a SDS sophomore, Chatham averaged 9.1 PPG and 6.3 RPG. He should be Arizona State's best player in the paint this year. Sophomore small forward Kimani Lawrence (3.1 PPG, 1.7 RPG, 45.8 FG%) looked impressive last summer. It's expected he'll have a major impact this season. Freshman forward Taeshon Cherry arrives as the highest-ranked front man the Sun Devils have ever recruited. He is a versatile, athletic performer who ably defends while being able to shoot from virtually anywhere.
Backcourt
As a freshman last season, guard Remy Martin (9.6 PPG, 2.9 APG, 45.3 FG%) was a dogged defender while also proving to be an essential part of the transition game. As a sophomore, the 37.1% three-point shooter, will be asked to do even more with Evans and Holder gone. Rob Edwards, a transfer from Cleveland State, will be a solid 2-guard. Canadian Luguentz Dort, the highest-ranked guard to come to the Sun Devils since James Harden, can drive the lane and battle around the rim.
2018-19 Arizona State Sun Devils Basketball Preview – Final Word
Head coach Bobby Hurley has a team that's bigger, stronger, and more athletic than the 2017-18 Devils. The team's scoring D was ranked eighth in the Pac-12 last season. Our 2018-19 Arizona State Sun Devils basketball preview sees them as being much better this season. With more length and size, we also expect them to be better on the boards. Last year, they were ranked 10th on both ends of the court when it came to rebounding. Two elements they do lack are experience and outside shooting. We expect this team to improve throughout the season.
Pac-12 News and Updates