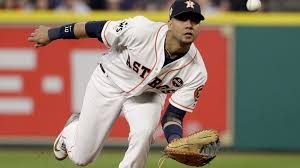 The Houston Astros (103-59) have made MLB's postseason three of the last four years. In 2017, they won it all, and in 2018, they were expected by many to do the same. But then the Astros ran into the Boston Red Sox and were eliminated in five games. Our 2019 Houston Astros preview envisions this team as once again winning the AL West. After all, the Astros are one of the best all-around teams in the league. They have a great pitching staff, and they can also hit and field. We look for them to dominate the AL West and to post their third-straight season where they accumulate over 100 wins.
Pitching
The starting pitchers had a combined ERA of 3.16, which was 1.23 runs lower than the AL average, while the pen came in at 3.03, which was 1.03 runs lower than the league average. The pitching staff's 3.11 ERA was the best in both leagues. Plus, their .217 opponent batting average was the lowest in MLB. Saves came in at 46 (tied 7th). These guys are good. It's that simple.
Starters
Four of the projected starters for the Astros are righties. Ace Justin Verlander (16-9 W/L, 2.52 ERA, 0.90 WHIP) is their number one guy. Since coming to Houston, Verlander, who has a 95-mph four-seam fastball, a junk changeup, and a tough to hit curve, is 21-9 in 39 starts. While with the club, he's posted a 2.32 ERA. Next in our Houston Astros preview is another fine hurler Gerrit Cole (15-5 W/L, 2.88 ERA, 1.03 WHIP). Cole, who joined the Astros last season, offers four quality pitches, including an especially effective curveball. Colin McHugh (6-2 W/L, 1.99 ERA, 0.91 WHIP) comes out of the bullpen for another shot at starting. His fastball is tough to catchup to.
Last season, Josh James (2-0 W/L, 2.35 ERA, 0.96 WHIP) came up from Triple-A Fresno and was impressive. He looks to crack the rotation this year. Who will be the fifth guy in the rotation? Perhaps righty Brad Peacock (3-5 W/L, 3.46 ERA, 1.17 WHIP) or maybe lefty Framber Valdez (4-1 W/L, 2.19 ERA, 1.24 WHIP).
Relievers
The bullpen is strong and includes workhorse Ryan Pressly (2-1 W/L, 2.54 ERA, 1.11 WHIP). Pressly led the league in appearances last season with 77 and, after joining the Astros from the Twins, held batters to a .138 average. Hector Rondon (2-5 W/L, 3.20 ERA, 1.32 WHIP), who was a closer with the Cubs, is a great setup guy. He also has the stuff to garner a fair number of saves. He notched 15 in 2018. Closer Roberto Osuna (2-2 W/L, 2.37 ERA, 0.97 WHIP) has a four-seam fastball that baffles hitters. However, his cutter can use some work. Still, he was 21-of-22 in save situations last season.
Everyday Players
Houston's team batting average of .255 was six points higher than the league average and ranked seventh in MLB. The team came in eighth in the majors in slugging percentage (.425) and OBP (.329), and they were fifth in RBI (.763). Houston was also fifth in players left on base (1052) and seventh on OPS (.754). But our Houston Astros preview finds that the team's 71 stolen bases (tied 19th) could use some improvement. Still, this was a solid offense.
Hitting
Center fielder George Springer (.265 BA, 71 RBI, 22 HRs) leads off for the Astros with Alex Bregman (.286 BA, 103 RBI, 31 HRs) and Jose Altuve (.316 BA, 61 RBI, 13 HRs) batting second and third. Springer can play long ball as can Bregman. The fourth spot belongs to Carlos Correa (.239 BA, 65 RBI, 15 HRs). After that, contact hitter Michael Brantly (.309 BA, 76 RBI, 17 HRs) comes to the plate. These five guys can create a lot of scoring chances.
Our Houston Astros preview sees the bottom of the order being first baseman Yuli Gurriel (.291 BA, 85 RBI, 13 HRs) and Tyler White (.276 BA, 42 RBI, 12 HRs), the DH, batting seventh. The Astros will then have Josh Reddick (.242 BA, 47 RBI, 17 HRs) and Robinson Chirinos (.222 BA, 65 RBI, 18 HRs) in the eighth and ninth spots. The last three batters could jack up production a bit. There's a major falloff after Gurriel.
Defense
Although the Astros were 26th in double plays with 116, they had the best fielding percentage in the majors (.989). Shortstop Correa and second baseman Altuve were plagued by injuries last season. But they should be back in form in 2019. Correa has a fine glove and excellent range, while Altuve is known for being solid on D. At third, Bregman, who had a breakout season at the plate, was effective. First baseman Gurriel is a sound a versatile fielder. However, the catching ranks are thin, as the Astros saw free agents Martin Maldonado and Brian McCann depart. The aging Chirinos, who has seen his defensive skills deteriorate considerably, has been brought in to fill the void.
Brantley comes from Cleveland, where he spent a decade, to play left. He is quite sound defensively. Spring, a two-time All-Star over the past two seasons, is a top-notch talent. Right field features Reddick. He's another fine and skilled fielder.
Management and Front Office
When your coaches and staff move onto bigger and better things, that is the sign of a successful organization. That's what has happen with the Astros organization. GM Jeff Luhnow and manager A.J. Hinch have had to deal with a lot of personnel changes, as a number front office and coaching assets left for better jobs. With that occurring, our Houston Astros preview finds that the team, which mainly promoted from within, had to scratch around to find some replacements. Still, the foundation elements are solid and Luhnow has done a good job ensuring this team remains highly competitive. The Astros love analytics and Hinch is certainly plugged into that fact. But the manager also does a fine job of simply making smart game decisions based on solid baseball sense.
2019 Houston Astros Preview: Final Word
Our Houston Astros preview projects this team as once again being the club to beat in the AL West. This is a deep group that knows how to win. The Astros have plenty of pitching, hitting, and fielding to get back to the ALCS. Of course, that road can be filled with unknown twists and turns, but if any team can adjust to surprises that tax their organization, coaches, and players, it is the Astros. Our 2019 Houston Astros preview envisions this team as finishing first in their division. They will also win either the second-most or most games in the American League.
Projected Finish: 1st AL West, Record: 105-57
LINKS