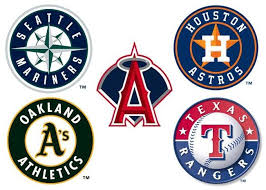 We see the Houston Astros as once again dominating this division. In creating our 2019 AL West preview, we can't imagine another team challenging them down the stretch. There will be challengers, that's true. The Los Angeles Angels and Oakland A's will both give the Astros a fight, but neither has the depth to battle all the way into late September. For the Seattle Mariners and the Texas Rangers, it's really about rebuilding. Seattle has enough talent to compete at times. We expect Texas to experience a very tough season. Might a wild card come out of this division? There could be one, and if there is, it will be the Angels.
We have made it easy for you to connect to each of the baseball clubs in our 2019 AL West preview. To go to a team page, simply click on the appropriate link. Each of our team previews provides insights into the last five seasons, analysis of pitching, hitting, defense, and management/coaching, and observations concerning individual players. We do offer in-depth previews of all MLB teams in the American League and National League for 2019.
Yes, Houston is good, very good, once again. Although they lost some essential pitchers to free agency, GM Jeff Luhnow made some good moves. That included upgrading the Astro offense by snaring free agent and star outfielder Michael Brantley. We expect another 100-plus win season for the Astros. That would be their third straight and their fourth playoff appearance over the past five seasons.
The Halos have a new skipper in Brad Ausmus. Ausmus, who did not distinguish himself when he took the helm with the Tigers for four years, gets a second shot as a big-league skipper. He's got talented pitchers, including two promising starting lefties in Andrew Heaney and Tyler Skaggs, and some fine run-producers in Mike Trout and Shohei Ohtani. The Angeles have had back-to-back losing seasons where they've gone 80-82. We expect them to do much better this season. They may be good enough to earn a wild card berth.
The Oakland A's also look good. At least when it comes to hitting. This is a club that hammered 227 round trippers last season, placing them third in MLB. The primary guys responsible for the carnage are back – Matt Chapman, Matt Olson, and Khris Davis. They are joined by another fine hitter, Jurickson Profar. But there is a major problem for this team, and that is the rotation. The five-man unit lost two starters to free agency and another starter to what will be a year-long injury.
GM Jerry Dipoto has decided it is time to rebuild. The plan is to be ready to compete in two years. There is some good young talent on the team, and highly productive vet Edwin Encarnacion joins the club. However, there are major question marks concerning the starting rotation, and the Mariners do not possess a bonafide closer. They won 89 games in 2018, and if Dipoto had not disassembled the team, Seattle probably would have been competitive this season. But we don't see that being the case now.
The Texas Rangers lost 95 games last season. Unfortunately, we expect them to lose more than that in 2019. They'll be hurt by the retirement of one of their primary run producers, Adrian Beltre. Plus, the Rangers lost another offensive force when they traded away Jurickson Profar to the Oakland A's. The farm system does have some very fine, young pitching talent. But we don't expect them to be able to hold their own if and when they are called up. It is going to be a very long season for the Rangers.
2019 AL West Preview
Projected Order of Finish
Houston Astros
Los Angeles Angels (Wild Card)
Oakland Athletics
Seattle Mariners
Texas Rangers
LINKS