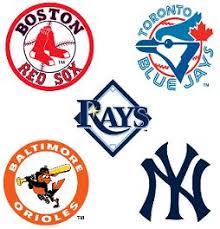 Our 2019 AL East Preview envisions this division being a battle amongst the Boston Red Sox, New York Yankees, and Tampa Bay Rays. In the end, we expect the Red Sox to win the East and the Yankees to come in second with the Rays a few games behind. New York should capture a wild card berth, but what of Tampa Bay? We expect the Los Angeles Angels in the West to outperform them slightly. For the rest of the AL East, it's the Toronto Blue Jays fourth and Baltimore Orioles fifth.
Make sure you check out each of our full-length 2019 AL East preview articles. It's simple to connect with each of the baseball clubs. To go to an AL East team's complete preview, simply click on the appropriate link on this page. Each of our team previews includes important and essential insights into the last five seasons, in-depth analysis of pitching, hitting, defense, and management/coaching, and specifics concerning individual players. Betting Brain offers previews of all MLB teams in the American League and National League for 2019.
How can we be optimistic about the Orioles? They'll win more than 47 games this season. At least, we think they will. That's positive. But we do not expect them to post a winning record. GM Mike Elias needs to start rebuilding and manager Brandon Hyde will have to make the best of what he has. By the way, both are new to the Orioles, as Elias comes from the Astros where he was assistant general manager and Hyde from the Cubs where he was bench coach. This team is a mess. Time for management to roll up their sleeves and start anew.
The Boston Red Sox enter this season as the defending World Series Champions and having won the AL East three seasons straight. They are loaded with hitters, have a dynamic outfield, and bring one of the better pitching rotations into this season. First year manager Alex Cora was impressive last season, especially in the playoffs. Although first place is not guaranteed, it's expected. Can these Sox make it two championships in a row?
The New York Yankees have a top-notch starting rotation, an excellent bullpen featuring the best closer in baseball, and a group of hitters who can play long ball. The big question is has GM Brian Cashman closed the gap between the Red Sox and Yankees? NY was 10-13 against the BoSox last season and had a run differential of minus-28. Cashman has added James Paxton to the mix and is always looking to secure a top free agent.
The Tampa Bay Rays may be a small market team, but they play big. This group can compete. The Rays welcome back their ace, 2018 Cy Young Award winner Blake Snell, a hard to hit lefty. Plus, Rays GM Erik Neander has bolstered the team with some new talent including former Astro's righty Charlie Morton and former A's righty Emilio Pagan. The pitching staff is sound, and there are some hitters who were added through part of last season who finished up with killer numbers. Watch out for this team.
There is some good news as far as the Toronto Blue Jays are concerned. One of the top prospects in MLB, Vladimir Guerrero Jr., is just about ready to be brought up. He brings power to spare. Otherwise, on the Jays, there's some pitching, but not enough, and some hitting, but not enough. Manager John Gibbons was fired at the end of last season, and Charlie Montoyo has been brought in. There's going to be a lot of mentoring this season and not as much winning as fans would like.
2019 AL East Preview
Projected Order of Finish
Boston Red Sox
New York Yankees (Wild Card)
Tampa Bay Rays
Toronto Blue Jays
Baltimore Orioles
LINKS