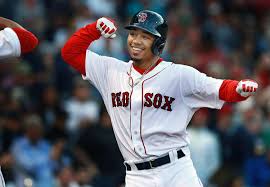 Our 2019 Boston Red Sox preview projects that this team has a real shot of winning back-to-back championships. The last team in MLB to do that was the Yankees who took the World Series in 1999 and 2000. The Boston Red Sox (108-51) have been on a roll, setting a franchise record for wins last season and quickly eliminating opponents on the way to their fourth championship is 15 years. Last season was no flash in the pan. Boston has made the playoffs for the last three seasons, finishing at the top of the AL East each time. With a $239,481,745 payroll, the highest in MLB, the Red Sox are not shy about paying for what they need to win.
Pitching
The Red Sox topped the majors in wins with 108. Red Sox hurlers were eighth in ERA (3.75) and in opponent batting average (.237). In the AL starter and reliever ERAs and opponent batting averages were below that of the average. Boston tied for seventh in saves in MLB with 46. The staff was good enough to win behind a team that dominated opponents when they came to the plate.
Starters
Our Boston Red Sox preview observes that the team has a solid stable of starters, including three lefties and two righties. Chris Sale (12-4 W/L, 2.11 ERA, 0.86 WHIP), who saw his innings limited last season due to shoulder soreness, is the ace, the lefty has a fastball/slider combo that simply destroys hitters. Second in the rotation is David Price (16-7 W/L, 3.58 ERA, 1.14 WHIP), also a lefty. Price, who hopes once again to start 30 games as he did last season, offers a triple-threat of fastball/cutter/changeup. Often vilified, right-hander Price became a hero in the postseason. Although third man in Rick Porcello (17-7 W/L, 4.28 ERA, 1.18 WHIP) has a career ERA of 4.26, he knows how to win games. In four years with Boston, he's 59-43. He uses a sinker and slider. Porcello has to reduce the number of gopher balls he tosses.
Young lefty Eduardo Rodriguez (13-5 W/L, 3.82 ERA, 1.26 WHIP) had a solid 2018 season. This could be a breakout year for him. Nathan Eovaldi (6-7 W/L, 3.81 ERA, 1.13 WHIP), the fifth man in, is a righty who throws hard, but needs to master his control.
Relievers
After nailing 42 saves and being effective in the postseason, Boston closer Craig Kimbrel became a free agent. And although as of this writing he is still unsigned, Kimbrel definitely won't be coming back to Boston. Righty Ryan Brasier (2-0 W/L, 1.60 ERA, 0.77 WHIP) is a likely candidate to take on the closer role. In 10 years in the minors, he notched 78 saves. Matt Barnes (6-4 W/L, 3.65 ERA, 1.26 WHIP) looks to take on a bigger role as Boston's setup man. Look for Heath Hembree (4-1 W/L, 4.20 ERA, 1.33 WHIP) and Brandon Workman (6-1 W/L, 3.27 ERA, 1.21 WHIP) to be used in sixth- and seventh-inning relief.
Everyday Players
The Red Sox topped MLB in almost every offensive category except for stolen bases where they were third with 125, and homeruns, where they were ninth with 208. Otherwise, this team was first in batting average (.268), slugging percentage (.453), OB% (.339), OPS (.792), runs (876), and RBI (829). They were a run-producing machine. It was tough for anyone to stop them. Our Boston Red Sox preview sees this team as, once again, coming to the plate with power and perseverance.
Hitting
We usually say baseball is all about pitching, but our Boston Red Sox preview finds that a lot of the success for this team last season revolved around hitting. The batting order is impressive. Left fielder Andrew Benintendi (.290 BA, 87 RBI, 16 HRs) leads off. He was in the top 20 in MLB in BA, OBP, OPS, doubles, triples, RBI, and walks. What more can you ask for? Second is Mookie Betts (.346 BA, 80 RBI, 32 HRs), last season's AL batting champ. Betts scored a 10.9 WAR last season, which was the highest for a position player since Barry Bonds earned an 11.8 in 2002. DH J.D. Martinez (.330 BA, 130 RBI, 43 HRs), a major homerun hitter and RBI contributor, comes to the plate third. Extra-base hit specialist Xander Bogarts (.288 BA, 103 RBI, 23 HRs), who plays short, is in the cleanup spot.
First base and the fifth position in the batting order will be shared between first-time All-Star Mitch Moreland (.245 BA, 68 RBI, 15 HRs) and 2018 World Series MVP Steve Pearce ( BA, RBI, ERA). Both are solid at the plate. Dustin Pedroia (.091 BA, 0 RBI, 0 HRs), who played rarely last season due to injury, will try to come back. The 35-year-old second baseman always plays hard and over 13 MLB seasons has batted .300. Rafael Devers (.240 BA, 66 RBI, 21 HRs), who's at third, will be given a chance to make up for last year's 44-point drop in BA. Can he get back to rookie form when he hit .284? Christian Vazquez (.207 BA, 16 RBI, 3 HRs) will be one of Boston's backstops. Center fielder Jackie Bradley Jr. (.234 BA, 59 RBI, 13 HRs) can't hit, but he can field.
Defense
Red Sox fielding percentage was .987 (7th) for 2018. They posted merely 106 double plays, which ranked them next-to-last in the majors. The middle field could be better if second baseman Pedroia stays healthy and finds his old form. Then again, at short, Bogarts can be an adventure and not the pleasant type. First base is ably covered by Pearce or Moreland, while Devers is developing at third. In the box behind the plate, both Vazquez and Sandy Leon are top defenders. Pitchers love Leon's game calling and Vazquez's 39.4 career caught stealing rate is the best amongst active catchers.
The Red Sox have two Gold Glovers with Betts in right and Bradley in center. Plus, last season, Benintendi led all AL left fielders with 11 assists. This is a stellar outfield. They ably track down tough to catch balls, offer excellent arm strength and top-notch speed, and play a smart defensive game. This is perhaps the best outfield in the American League.
Management and Front Office
Alex Cora's first season as a MLB manager was a huge success. Cora proved to be adroit at making the right decisions at the right times, especially in the playoffs when it came to pitching. He proved that to Cora's managerial mojo, our Boston Red Sox preview notes that this team is in good hands under the leadership and executive decision-making of Dave Dombrowski. Since he came to the front office in 2015, this team has taken off.
2019 Boston Red Sox Preview: Final Word
Our Boston Red Sox preview sees this team as certainly being an able competitor against any team in MLB. The Red Sox are well-stocked when it comes to hitting, and their starting rotation is skilled and talented. There are questions in the bullpen, especially regarding the closer role. Cora proved to be a solid manager who made good decisions and bonded with his players. The front office is running on all cylinders. Our 2019 Boston Red Sox preview projects this team to take first in the AL East for the fourth season in a row.
Projected Finish: 1st AL West, Record: 98-63
LINKS