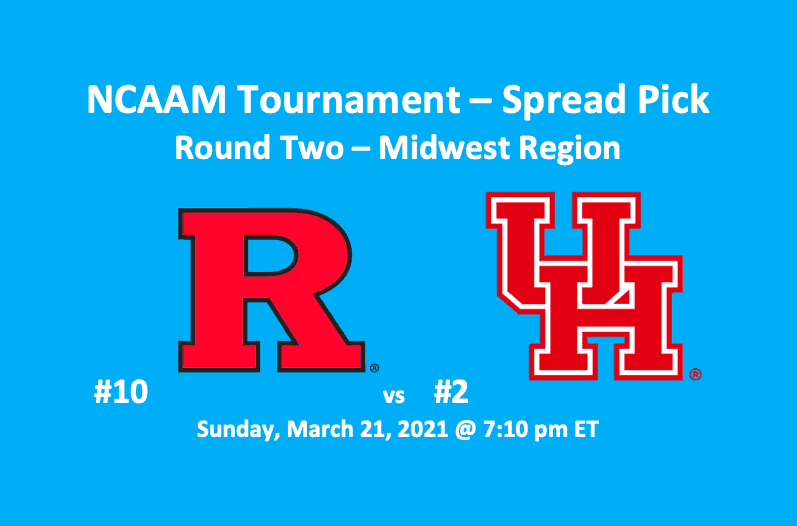 This Rutgers vs Houston pick has the Scarlet Knights as the underdog. This 2021 NCAA Tournament Midwest Region Round Two game has the Rutgers Scarlet Knights at +7.5 (-109). The best line for the favored Houston Cougars is -7.0 (-115). In Round One, Rutgers beat the #7 Clemson Tigers 60-56. Over their last five games, they've gone 4-1, winning their last three games. The Houston Cougars, who've won three of their last five games, took down the #15 Cleveland State Vikings 87-56 in Round One.
The Scarlet Knights and Cougars will meet on Sunday March 21 at 7:10 pm ET. The game will take place at Bankers Life Fieldhouse in Indianapolis, IN. Make sure you check out all of our March Madness picks, as we've got every game covered including Oregon State vs Oklahoma State.
Rutgers vs Houston Pick – Stats
Houston is averaging 77.6 PPG, while Rutgers is putting up just 70.0. The Cougars are also better in rebounds (41.1 to 35.3) and assists (14.1 to 13.8). Two other areas where Houston tops out over the Scarlet Knights is foul shooting (74.1% to 63.2%) and three-pointers (36.1% to 31.1%). In other areas, the Knights are a tad better or these two teams are neck-and-neck.
Key Players
Rutgers is brimming with guards with the top three being Ron Harper Jr., Jacob Young, and Geo Baker. Harper leads the team with 15.2 PPG. He's also grabbing 5.9 RPG. Young is averaging 14.3 PPG and 3.4 APG and Baker is good for 10.2 PPG and 3.1 APG with 3.1 RPG. Myles Johnson is the primary player in the paint. He's averaging 8.0 PPG and 8.7 RPG while shooting 63.2% from the field.
The Cougars are also solid in the guard spot. Quentin Grimes, Marcus Sasser, and DeJon Jarreau are the three top contributors. Grimes is averaging a hefty 18.0 PPG and grabbing 5.9 RPG. Sasser is good for 13.7 PPG, while Jarreau is this team's playmaker with 4.2 PG, 5.3 RPG, and 10.6 PPG. In front, forward Justin Gorham is averaging 8.6 PPG and 8.8 APG. He's shooting just over 50%.
Rutgers vs Houston Pick – Final Thoughts
Our Rutgers vs Houston pick is a tough call. However, we think that Rutgers' depth at guard will certainly help them. On the other hand. The Cougars are scoring on average almost eight more points than the Scarlet Knights and grabbing almost six more rebounds per game. We're going with the Rutgers Scarlet Knights at +7.5 (-109).
#10 Rutgers Scarlet Knights vs #2 Houston Cougars
Rutgers Scarlet Knights at +7.5 (-109)