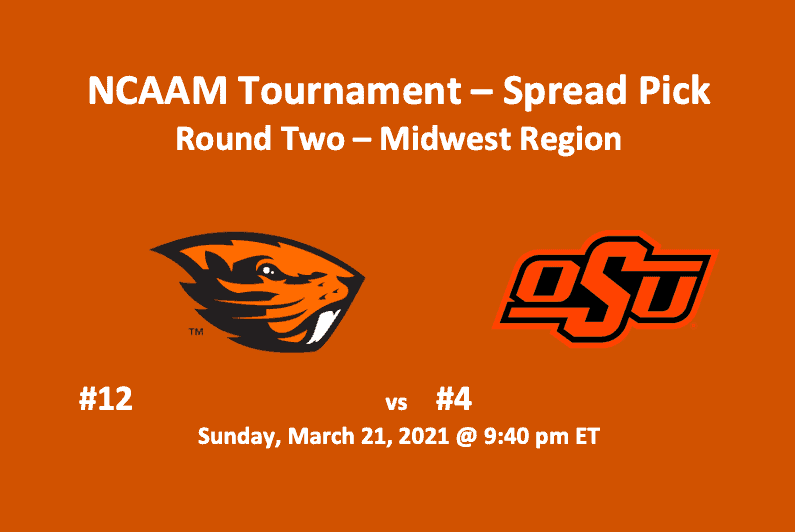 This Oregon State vs Oklahoma State pick has the Beavers as the underdog. This 2021 NCAA Tournament Midwest Region Round Two game has the Oregon State Beavers at +6.0 (-110). The best line for the favored Oklahoma State Cowboys is -6.0 (-115). In Round One, Oregon State upset the #5 Tennessee Volunteers 70-56. Over their last five games, they've gone 4-1, winning their last four games. The Oklahoma State Cowboys, who've won four of their last five contests, took down the #13 Liberty Flames 69-60 in Round One.
The Beavers and Cowboys will meet on Sunday March 21 at 9:40 pm ET. The game will take place at Hinkle Fieldhouse in Indianapolis, IN. Make sure you check out all of our March Madness picks, as we've got every game covered including Rutgers vs Houston.
Oregon State vs Oklahoma State Pick – Stats
This is one of those games that can certainly go either way. The Beavers are averaging 70.7 PPG, while the Cowboys are putting up 77.1 PPG. OSU is also better on rebounds, 38.6 to 33.7. Finally, the Cowboys are shooting 46.7%. The Beavers are hitting 43.5% of their field goals. On the other hand, the Beavers excel at the foul line, posting a 75.8% mark to OSU's 71.3%.
Key Players
Oregon State will look to guards Ethan Thompson and Jarod Lucas and forward Warith Alatishe to provide a majority of their points. Along with leading the team with 15.3 PPG, Thompson is averaging 3.9 APG and 3.8 RPG. Lucas is recording 13.0 PPG and is hitting threes at a 39.7% rate. In the paint, Alatishe is good for 9.7 PPG and 8.5 RPG. His field goal percentage comes in at 51.6.
The Cowboys have a group of starters who can score in heaps, including guards Cage Cunningham , who's averaging 20.0 PPG, and Avery Anderson III, who's putting in 12.0 PPG. Cunningham is also posting 6.3 RPG and 3.5 APG. Also, in the backcourt, Isaac Likekele is recording 9.7 PPG, 3.7 APG, and 6.7 RPG. He's shooting 44.4% from downtown and 49.1% from the floor. This is a fine group of guards. Around the rim, Kalib Boone is shooting 64.5%. He's good for 9.6 PPG, 5.6 RPG, and 1.7 BPG.
Oregon State vs Oklahoma State Pick – Final Thoughts
Our Oregon State vs Oklahoma State pick finds that the Cowboys certainly have the upper-hand in this game. Their starting five is filled with fine shooters. At the same time, the Beavers certainly have a sound roster. In the end, we do think that OSU will prevail. We're going with the Oklahoma State Cowboys at -6.0 (-115).
#12 Oregon State Beavers vs #4 Oklahoma State Cowboys
Oklahoma State Cowboys at -6.0 (-115)